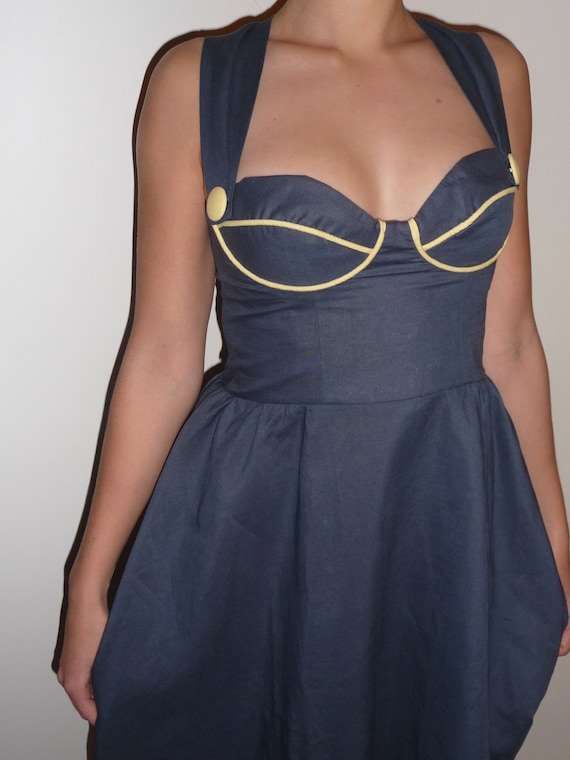 Hello there lovely readers - Welcome to Blogtoberfest Day 21 ! I can't believe that this month has gone by so quickly. I am still finding it a great challenge to blog everyday and hold an admiration that cannot be expressed for those who blog every day, all year round. I am hoping to get the vege patch up and running again this weekend, looking forward to planting Basil, Coriander, Lettuce, Tomatoes, Capsicums and Baby Eggplant - for starters anyway.
Following on from the
Frocktober
post yesterday, today I want to introduce a relatively new to the Etsy scene DUSTy Diva and Friday Friend - meet
Sigrid
from
sigridmeleane
. Sigrid opened her Etsy store in June this year, her designs are elegant, simple and above all flowing and feminine.
Sigrid's ETSY mantra is " ♥ All clothing is lovingly handmade - from my hands to yours."
I want to share some of Sigrid's current creations and my personal favourites with you now. I love the prints and embroidery on these dresses - they really are something gorgeous and unique ! Not to mention funky and stylish too :)
Dear readers, time to take some time just for yourself, indulge yourself in the fabric that is the story of sigridmeleane. See you all tomorrow for Blogtoberfest Day 22.
The Fabric of Seamstress sigridmeleane
Who is sigridmeleane?
Sigrid Meleane is my own little work in progress. The design process through to production and everything in between is made by my two hands. I am a fashion designer, who after working in the fashion industry, wanted to do something more personal and something that was my own.
I have always loved the notion of handmade compared to mass production. I like knowing something I own (and made) has been carefully tended to by someone's own two hands. I think people appreciate the work, intention and story behind something handmade. This is also why I like to make small runs and one-off items.
How and when did your handmade/artistic journey begin?
I come from an artistic family, so it was only natural that I follow suit. My mother first introduced me to sewing. She helped me make my first project, a heart shaped cushion. Some of my loveliest memories are of her on the sewing machine and me twirling around in the fabric scraps. I still have a little bag with some of these scraps.
I always knew I wanted to get into fashion design but, I studied Fine Arts first. I often skipped classes to go chew on Life Savers and read up on fashion and fabric at the library. The one class that retained my full attention was, funnily enough, Fibre Arts. Eventually, I left Fine Arts and pursued fashion. This time, I attended my classes and successfully graduated.
There is no big philosophy behind what I do. I design because I am creative and I love it.
What inspires you?
Colour, texture and fabric are what I mostly work from and I build up my designs around these. I can pull these from a flower, a photograph, a beautiful landscape, art or anything that holds beauty for me. Colour contrast; texture contrast; fitted with flowing are great elements I like to play with. Capturing a feeling or a moment are wonderful things to try and recreate also.
My mother has a great sense of colour and she has always been fearless with it. My favourite images of my mother are her in such glorious colours and always with flowers in her hair.
What mediums do you work with - do you have a favourite?
I love to work with texture and natural/organic fabrics. My usual style is more detailed and tactile, often using fabric itself as an embellishment. I stumbled upon my own techniques for embroidery and creating my own fabrics (often out of off-cuts) which are elements I would love to bring back to my designs.
What kind of things do you make/create?
I choose to focus mainly on dresses as to me; they are the epitome of femininity. I think every woman looks beautiful in a great dress. Even my jackets and coats tend to have more flow than fit. I also make fabric frill corsages which always add an element of fun to an outfit. I like to add features/details that are a little quirky and whimsical, such as bigger than average buttons. My current Etsy stock is my attempt at something more simple and minimal.
Do you have a favourite piece that you have made/created?
I made a couture dress some years ago that I spent many months on. I was given the theme of 'champagne' and this was my interpretation. I wish I could claim the painting as my own but; credit is due to my father, an amazing artist in his own right. I love to use couture techniques and this is something I will be focusing back on after going through my 'minimal' phase.
What are your future plans/dreams/aspirations?
My dream is to run my own business. I hope to make something of my little label and turn it into a little business. I hope I don't let my fear of failure stop me from putting myself out there, even though I know it won't be to everyone's liking. Even more so, I hope to design and make beautiful pieces that women will love to wear.
Want to see more (or perhaps do a little shopping) - check out sigridmeleane's
Etsy shop
at :
http://www.etsy.com/shop/sigridmeleane