Happy Sunday lovely readers. I have been a little creative in the kitchen today, baking Vanilla Macarons with a Chocolate filling. I have looked at recipes for these delicate biscuits but have found a cheats way using a gourmet packet mix from a line currently available in supermarkets in Australia. I thought I would include a little bit of history on the origins on the Macaron in todays blogpost :
"
Traditionally, a macaron is a sweet biscuit made with egg whites, icing sugar, granulated sugar, almond powder or ground almond, and food coloring. The macaron is commonly filled and a sandwich between two cookies is created. The name is derived from an Italian word "maccarone" or "maccherone". This word is itself derived from ammaccare, meaning crush or beat, used here in reference to the almond paste which is the principal ingredient. It is meringue-based: made from a mixture of egg whites, almond flour.
The confectionery is characterized by its smooth, domed top, ruffled circumference (referred to as the "foot"), and flat base. It is mildly moist and easily melts in the mouth."
http://en.wikipedia.org/wiki/Macaron
I must say, I was impressed with the ease of which the packet mix recipe came together, and for a first attempt think they turned out ok. They certainly taste incredibly delicious !
I figured if I was to visit Paris, I could pack my cards or cash into this sweet pouch by
dkshopgirl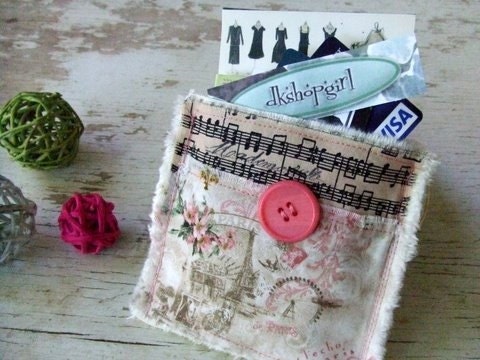 Shabby Chic Antique Inspired - Decorated Credit Card/Business Card Pouch - Musical Paris by
dkshopgirl
and take a stroll to a Paris Pâtisserie .......................
Paris Photograph - Boulangerie Malineau, French bakery, by
ParisPlus
to indulge in some tantalising delights, oh yum !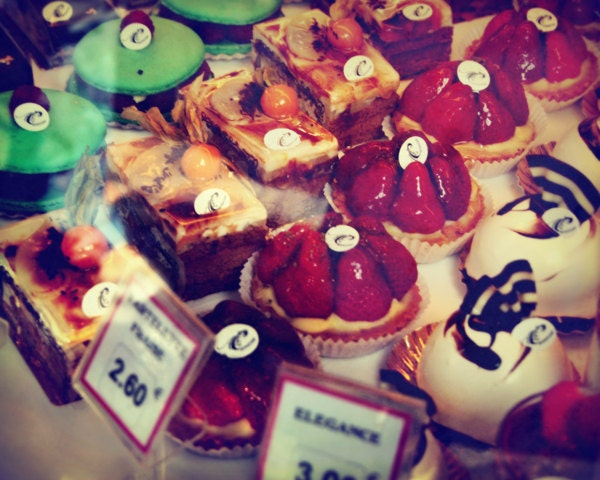 Paris Photo Patisserie 8x10 Print Photography Pastries Kitchen Art by
bangbouhstudio
To round off this calorie laden blogpost, I want to share with you a favourite french songstress of mine;
Camille
with her song
"Paris"
- you can find out more about Camille at her official website
http://www.camille-music.com/
. See you all again tomorrow for Day 17 of Blogtoberfest xo