Hello lovely readers, welcome to Blogtoberfest Day 4 - this post is entitled
Easy to Love
. It includes things that I really really do love and hope you will too.
I was playing with my camera over the weekend and took a snap that I am completely smitten by, it's raindrops on a native hibiscus flower in our garden. I know it will sound weird but I can't stop looking at and admiring the beauty of the raindrops on the petals, to me it is one of the most perfect shots I have ever taken.
I recently discovered the gorgeous art of
marisolspoon
- a wife and husband artist team, from the beautiful Appalachian mountains. They state their inspiration to be
"Nature's enchantment, vintage aesthetics, off beat tales, and classical painting".
Check out these wonderful prints for yourself on the marisolspoon etsy shop here :
http://www.etsy.com/shop/marisolspoon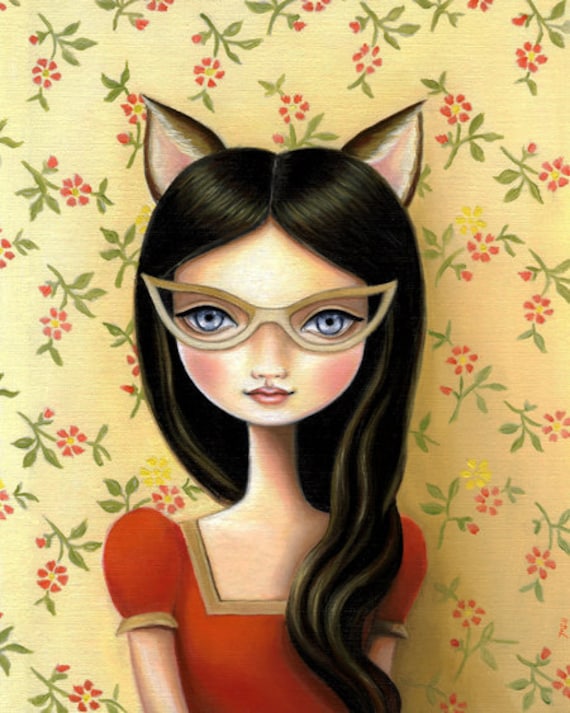 Library Masquerade print on premium matte - Kitty cat bandit art, pop surrealism by Marisol Spoon
And finally, in keeping on with the Indie Music daily song feature, meet
The Jezabels
a fabulous Triple J Unearthed band from the Sydney region, Australia.
I have completely fallen in love with their debut album The Prisoner, it really is
Easy to Love
. If you want to know more, visit their website here :
http://www.thejezabels.com/
I hope you enjoy this sweet song, catch you all tomorrow for Blogtoberfest Day 5 !