Welcome to Blogtoberfest Day 9 -
Sublime Sunday
. Today I will share with you Art, a Recipe and a Song.
Are you lacking a little in Artistic inspiration at the moment ? I have been browsing wonderful things on
ETSY
and came across this fantastic
12X15 Tattoo Inspired Coney Island Mermaid
by
Whimfactory
.
Seriously dear readers, what is not to love about this illustration ?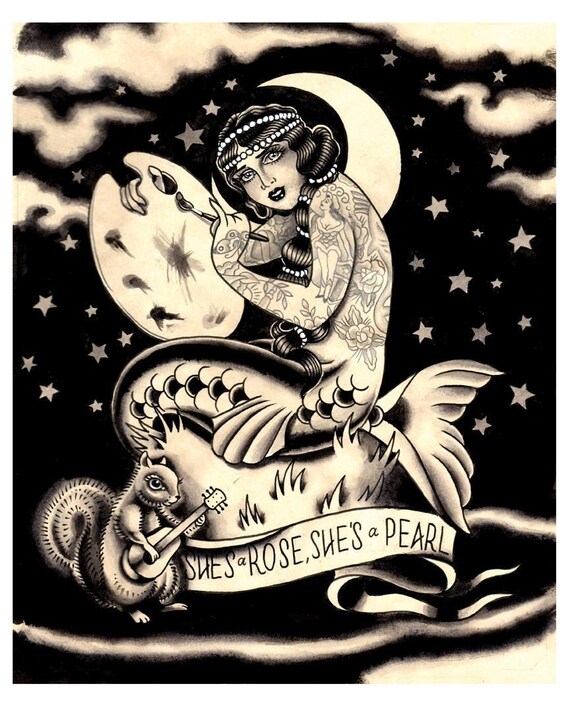 I have been baking today, to contribute to a combined Morning Tea at our brand new office tomorrow. I made some of the divine
Best Ever Oatmeal Raisin Cookies
with a recipe published by the lovely
Jess
over at
fullspiraldesigns
. These are a healthier take on the original version of this luscious cookie and I substituted the Cold Pressed Coconut Oil with Rice Bran Oil for this Recipe which I will share with you now.

Ingredients
• 1 3/4 cups wholemeal flour
• 1 tsp baking soda
• 3/4 tsp sea salt
• 1 heaped tsp ground cinnamon
• 1 tsp freshly grated nutmeg
• 1/4 tsp ground cloves
• 2 ripe bananas, mashed
• 1/3 cup cold pressed coconut oil
• 1 1/4 cup raw sugar
• 2 eggs
• 2 1/2 tsp vanilla extract
• 2 cups raisins
• 1 1/2 cup rolled oats
• 1 cup shredded dried coconut
Method :
1. Preheat oven to 170° C (350° F). Rub 2 large baking trays with a little coconut oil.
2. Combine flour, baking soda, salt and spices in a large bowl. Stir well.
3. In a food processor, combine bananas, coconut oil, sugar, eggs and vanilla. Whir until fully combined.
4. Add wet ingredients to dry, folding gently so as not to overmix.
5. Gently fold raisin, oats and coconut into the batter.
6. Bake for 10 minutes or until lightly golden. If you have the trays on two racks switch positions halfway through to ensure even cooking.
7. Let cool for 2 minutes on trays before eating – Jess recommends that you try the cookies while still soft and not browned, my preference is for them to be lightly golden brown.
And finally, no Sunday would be complete without some laid back music - today I want to also introduce to you another fantastic Australian Band -
Gerling.
The band formed in 1993 with the line-up of Darren Cross (guitar, vocals), Presser (real name Paul Towner, drums) and Brad Herdson (guitar, vocals). With an instrumentation of only two guitars and drums, the group initially focussed on creating experimental guitar pop.
Sadly for fans
, the band are currently on an indefinate hiatus.
You can check out more about Gerling here :
http://en.wikipedia.org/wiki/Gerling