Welcome dear readers to Day 3 of Blogtoberfest. I think the biggest challenge so for me is coming up with something new and exciting to share with you each day. Well here goes, I will share an ETSY find, a book I am reading and a song for you to ensure your Monday is a little upbeat.
While browsing ETSY the other day, I spotted this divine Aynsley aqua and gilt filigree pink rose large, Athens shape tea cup and saucer, circa 1960's. Isn't it just so elegant ? There is some really lovely china in
DadsTeacups
- have a looksee for yourselves :)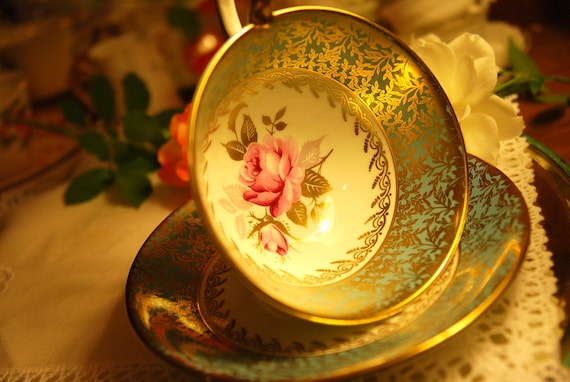 Have you read any good books of late ? I have been reading a book called The Secret Life of Bees by Sue Monk Kidd. It is set in the Summer of 1964 and was the year that the main character Lily turns 14. I have found it so far to be a touching and intruiging read - it has been described in the following way :
"
The Secret Life of Bees"
has a rare wisdom about life--about mothers and daughters and the women in our lives who become our true mothers. A remarkable story about the divine power of women and the transforming power of love, this is a stunning debut whose rich, assured, irresistible voice gathers us up and doesn't let go, not for a moment. It is the kind of novel that women share with each other and that mothers will hand down to their daughters for years to come."
You can find out more about this book at :
http://www.suemonkkidd.com/secretlifeofbees/
And lastly a new song for a Monday. Something a little upbeat, keeping with the accidental theme of the 1960's that seems to be the unintentional basis for this blogpost !
Little Birdy
are a wonderful Australian Band and this is a song from their 2009 album
Confetti.
I hope you enjoy this tune- see you all tomorrow for Blogtoberfest Day 4 !