Hello dear readers, welcome to the final blog post for Blogtoberfest ! Time for a little celebratory bloggers dance - I can't believe I did it - 31 posts in 31 days ! I can't wait until next year so I can do it all again.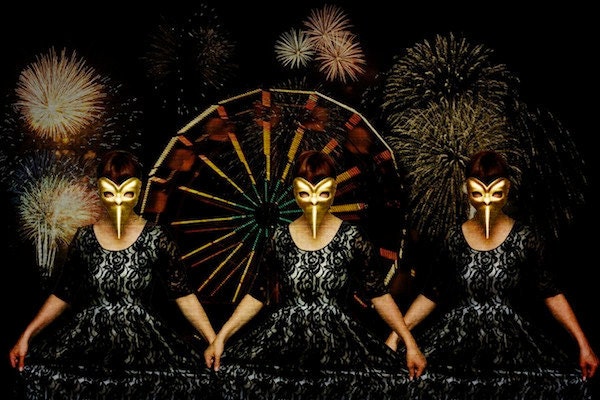 Fine art photo print, surreal gold venetian masked woman, carnival, fireworks, 8x12
by
TheShutterbugEye
With today being Halloween, I thought it fitting to make this the topic of the 31st blog post.
Personally I don't know much about Halloween or the traditions behind it. I decided to do some research. I found this article on the History of Halloween at
http://www.whatishalloween.com/history.php
which I found really informative. I hope you do too.
"History of Halloween"


Halloween (or Hallowe'en ... but also known as Samhain, Summer's End, All Hallow's Eve, Witches Night, Lamswool, and Snap-Apple), is a holiday that's celebrated annually on the night of October 31. It originated in Ireland, and is said to be among the world's oldest holidays. The simple history of Halloween - it has its origins in the ancient Celtic festival known as Samhain (celebration of the end of the harvest season in Gaelic culture). Traditionally, the festival was a time that was used by the ancient pagans to take stock of their supplies and slaughter livestock for winter storage. The ancient Gaels believed that on October 31, the boundary between the living and the dead dissolved, and the dead become dangerous for the living by causing problems such as sickness (plague) or damaged crops. The celebration of Samhain would frequently involve bonfires, upon which the bones of slaughtered livestock were thrown; costumes and masks were also worn in an attempt to mimic the evil spirits or placate them.

The essential elements of Halloween - lighting bonfires, costuming, trick-or-treating, telling ghost stories, and attending parties can all be traced back to Samhain celebrations as early as 2000 years ago.
Ultimately, the Celts believed that on October 31, the Lord of Death (Saman), would call together all the souls that had died the previous year in order for them to travel to the afterlife. Thus, the living would often disguise themselves in ghoulish costumes in order for the spirits of the dead to think they were one of their own, and pass by them without incident. The villagers would also wear masks and form parades in order to lead the spirits (souls) out of the town. The Celts would also offer food to Saman, in order to persuade him to more be temperate when he is judging their ancestors. This is seen as a precursor to "trick-or-treating", a key component of modern day Halloween Celebrations.
History of Halloween in America - Halloween did not become a holiday in the United States until the 19th century. Strict Christian traditions and lifestyles prevented this, and American almanacs of the late 18th and early 19th centuries don't include Halloween in their lists of holidays. The trans-Atlantic migration of almost 2 million Irish in the mid-1850s finally brought Halloween to the United States. Scottish emigration, primarily after 1870, also brought the Scottish version of Halloween. By the mid-1900s, Halloween had become engrained in the fabric of American society. From a commercial perspective, Halloween is now the United States' second most popular holiday (after Christmas).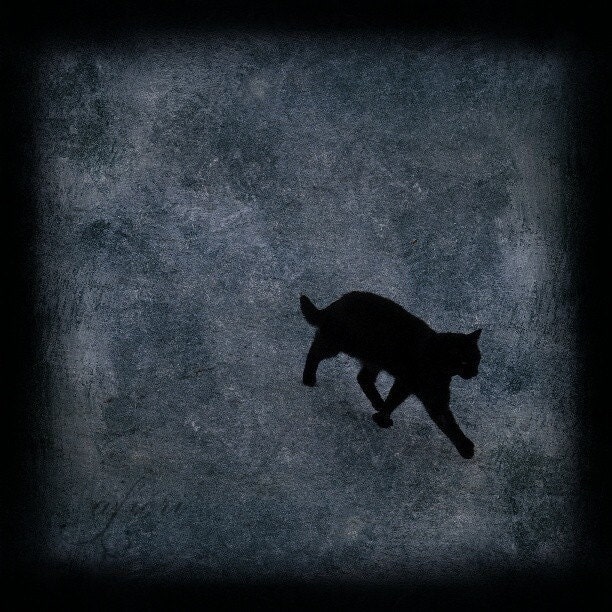 Black cat photograph by
afiori
So there you have it. That is what Halloween is all about. To
finish off Blogtoberfest 2011, I want to share a song from an Indie Band called Panic ! at the Disco called It's Almost Halloween.
"Panic! at the Disco is an American alternative rock duo, formed in Las Vegas, Nevada in 2005. Since its split, the band's line-up includes Brendon Urie (lead vocals, guitar, piano) and Spencer Smith (drums). Former members Ryan Ross (guitar) and Jon Walker (bass) left the group in 2009. The band has been described by critics as a variety of genres, most commonly pop punk, alternative rock, and baroque pop. The band formed and recorded their first demos while they were all still in high school. Shortly after, the band recorded and released their debut studio album, A Fever You Can't Sweat Out (2005). Made known by the top ten lead single "I Write Sins, Not Tragedies", the album eventually was certified double platinum and met with much success. The group then wrote and recorded their second record, Pretty. Odd., released in 2008. Marked as a drastic change in tone from their debut, it oversold commercial expectations but was met with critical success. The band released their third album, entitled Vices & Virtues, on March 22, 2011, while the record's first single, "The Ballad of Mona Lisa", was released February 1, 2011."
http://en.wikipedia.org/wiki/Panic!_at_the_Disco
For more information check out their website here : http://www.panicatthedisco.com/
Thank you dear readers for sticking with me during Blogtoberfest - see you on Wednesday for the regular Wednesday Wishlist xo