Welcome to Blogtoberfest Day 15. I have been busy busy, I am in the process of re-establishing a herb garden and found some Old Fashioned Mint at the gardening centre the other day. It has that beautiful really minty smell and gorgeous big minty leaves - I can't wait to use some in cooking.
Which leads me onto today's topic :
Mintox
. Actually lots of minty fresh inspired things *wink*. For those who are children of the 80's Mintox will be a familiar word. The urban dictionary defines
Mintox
as :
1. Mintox
- Really really good, totally awesome. The party we went to was mintox.
2. Mintox - An awesome word from the 80's.. meaning exactly that.. awesome / wicked / sick.. whatever.
Mintox was commonly abbreviated to "MINT".
Example : That new BMX is MINTOX!
http://www.urbandictionary.com/define.php?term=Mintox
Of course this opens a segue for a new product feature ! I know that my dear friend
Gennifer
of
Sage and Mage
shares my love of the word Mintox so thought she deserved a special mention in today's blogpost. Gennifer has a new listing in her ETSY store which is also quite fitting for inclusion here a delicious
Chocolate Mint Hand and Body Butter - All Natural, with Organic Cocoa Butter
. I can personally vouch for the exceptional quality and natural scents of all Gennifer's products, having sampled many of them for myself.
Gennifer describes this new body butter :
Well, yum! This just smells amazing. Smooth and chocolatey and mellow and minty. Not overpowering, not too sweet - a bit like a mint slice biscuit just left the room... : )
Made from scratch like all of my products, this hand and body butter is all natural, scented only with spearmint and peppermint essential oils, precious and heady cocoa absolute and the naturally mouthwatering scent of unprocessed organic cocoa butter. A little goes a very long way and leaves the skin nourished but not greasy - a waxy more than oily skin feel. Beautiful after showering: the dampness of your skin and the heat from your body help make the most of the cream in both useage rate and scent throw.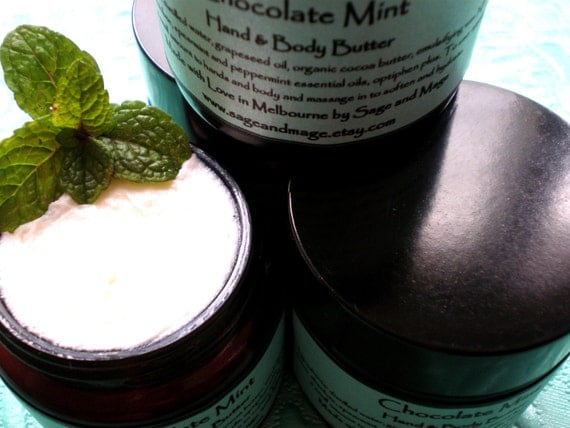 If you are looking for an excuse to pamper yourself, you really should check out the other beautiful things that are offered in the Sage and Mage store. I promise you won't be disappointed.
And lastly, a link to "Big Me" a
Foo Fighters
song based around the Mentos Gum commercial which they parodied in this filmclip. If you are not familiar with this band and would like to learn more - check out their website here :
http://www.foofighters.com/au/home
I hope you love the corny nature of this filmclip as much as I do - see you all tomorrow for Blogtoberfest Day 16.