Welcome everyone to Blogtoberfest Day 8. Today I want to introduce you to Fabulous Fennel. I love the flavour of Fennel, although it isn't to the taste of everyone.
We grow fennel in our garden, it has pretty feathery foliage and a distinctive aniseed
flavour. Fennel is used in many different forms, both culinary and medicinal......
in cooking as a vegetable, powdered spice, or seed. I am always on the lookout for new Fennel recipes and found this one that I can't wait to try,
once our Fennel is fully grown
and ready to harvest. I will share it with you now :)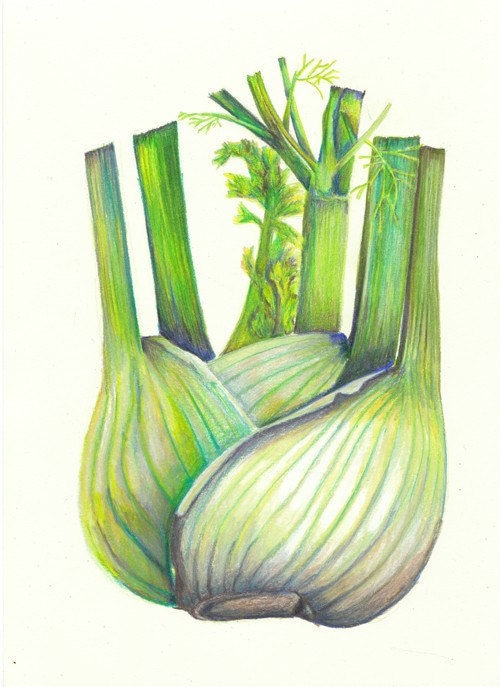 Fresh Fennel + Radicchio Pasta
"Pasta is a great carrier for strong flavours. Fennel is just delicious right now.
Team that with some sharp radicchio and you have the basis for a great vegetarian meal. The bite of the radicchio works really well with the gentleness of the pasta.
I used a short pasta but a long one like spaghetti or fettucine would also be good.
INGREDIENTS :
1 fennel bulb thinly sliced
1 red chilli, chopped or to your taste
2 cups coarsely sliced radicchio - about half a head
salt + freshly ground black pepper
1/3 cup roughly chopped flat leaf parsley
1 cup grated parmesan cheese
METHOD
1. Heat the oil in a medium pan and add the onion and fennel.
Cook over a fairly gentle heat until the fennel is tender and a pale golden colour.
2. Turn up the heat and add garlic, chilli and radicchio.
After the radicchio has collapsed, add the stock or water and season well.
3. Meanwhile, simmer the pasta in plenty of salted water
until it is tender.
Drain and add to the fennel mixture.
Toss around until all is coated and then fold through the parsley and the cheese and serve."