Happy Friday lovely Maddabling blog readers and for those visiting the Maddabling Blog through Blogtoberfest - a BIG HELLO to you too!
12 Days into Blogtoberfest and I am still loving the daily challenge.
It's a constant thought process, to find something of interest to write about each day and I hope you are all enjoying this journey with me.
Back to the Friday Friends feature now. This week I want you to meet some brand new Friday Friends and DUSTy Divas - Marlene and Leon from

I must confess, I have never ever seen such a fantastically creative collection of critters as can be found at lostsockshome.... meet a few of my favourites now!
Introducing the gorgeously girly Sharon Sheep and her friends
the marvellous Marty Mouse and
last but not least, the cutie pie Carmel the Camel.
Dear readers, I invite you now to make a cuppa, take some YOU time and to enjoy the inspirational story behind lostsockshome. Don't forget, the Maddabling 14 Day Blogtoberfest Photo Challenge starts tomorrow, 13th October 2012 see the event page on facebook here : for more information.
The story of lostsockshome
There's a group of friends in the Echuca area who, since BC (Before Children), have been spending time together over many years. They went to each others weddings and on holidays together. They played games and tricks and shared children, food, recipes, patterns and handcraft ideas. All 5 couples are now grandparents.
One couple, Marlene and Leon, once saw a button necklace at a market then went home and made one. On a weekend away they showed the rest of the group how to go about it. So began Liz's "hundredsofbuttons".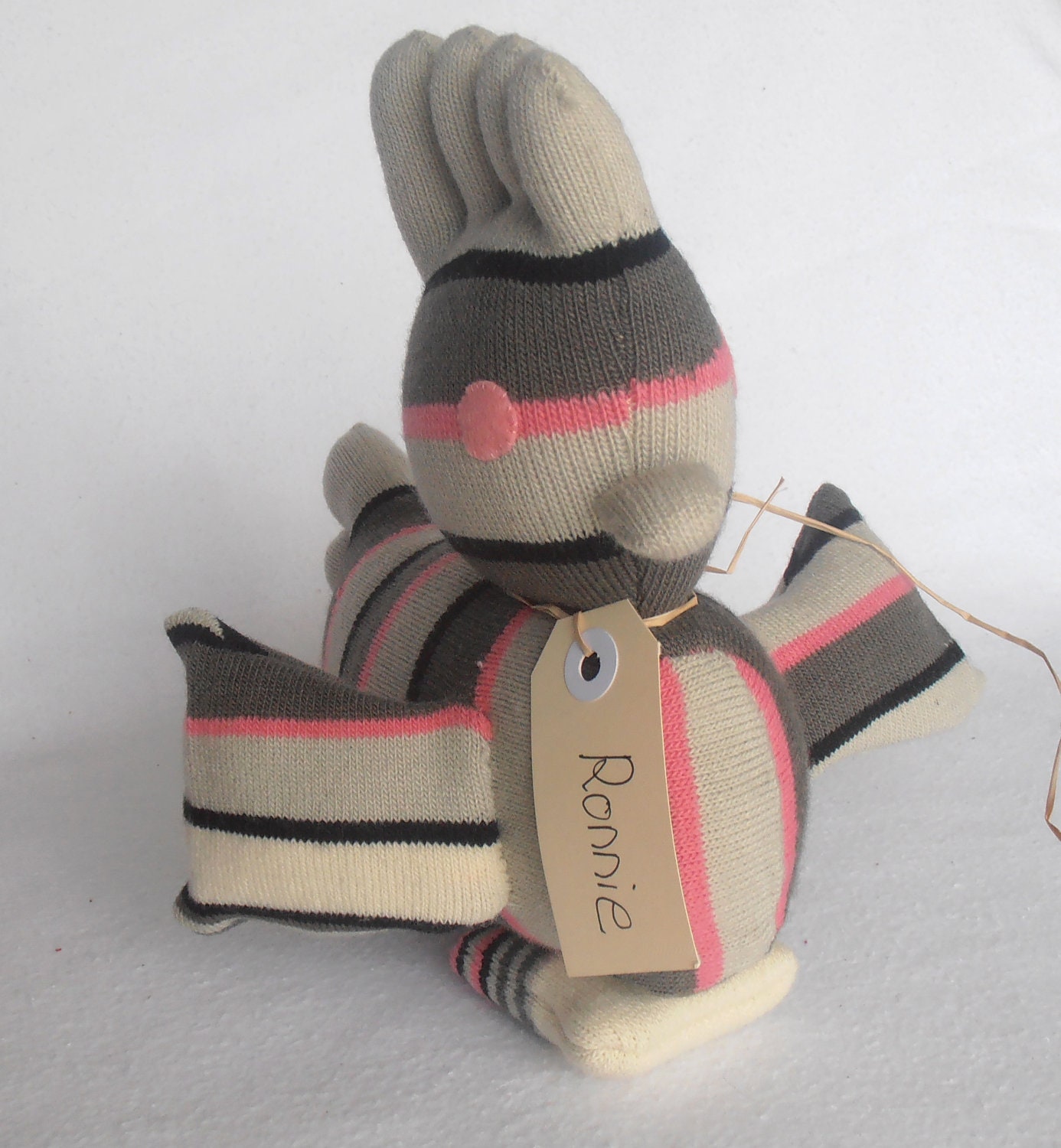 Another friend brought along the idea of sock monkeys. Soon Marlene and Leon had created a fine collection of sock monkeys. A fabulous and unique line of sock animals was born.

Marlene and Leon are the makers behind lostsockshome. Their artistic creativity had long been showcased in their Echuca gift shop. You don't run a successful gift shop for many years without having a great flair for design !
Since retiring from the gift shop Marlene has spent increasing hours pursuing her interest in things handmade. She has made fabric books, knitted toys, dolls clothes and many styles of gorgeous handmade items for their two lovely granddaughters.
There were too many sock animals to keep in the house and the sock monkeys were selling fast through the local gift shop, so the Marlene and Leon asked Liz of hundredsofbuttons about selling online.
So began www.lostsockshome.etsy.com. Liz photographs and lists, Marlene sews and creates while
Leon
encourages, suggests, supports and stuffs the softies !
Online etsy and local market sales sure answered the question of what to do with all the sock toys. www.facebook.com/lostsockshome got started and was followed by www.madeit.com.au/lostsockshome.
lostsockshome
- behind this fabulous shop are a supply of brightly striped socks and the makers' amazingly endless creativity. The sock animals feel incredibly soft and babies of all ages love them. Some toys have left lostsockshome to fly overseas. All the animals are made using new socks. They are feather – light, washable, easily packaged, handmade in
Australia
and absolutely unique.
lostsockshome
sock monkeys and sock animals are impossible to resist !