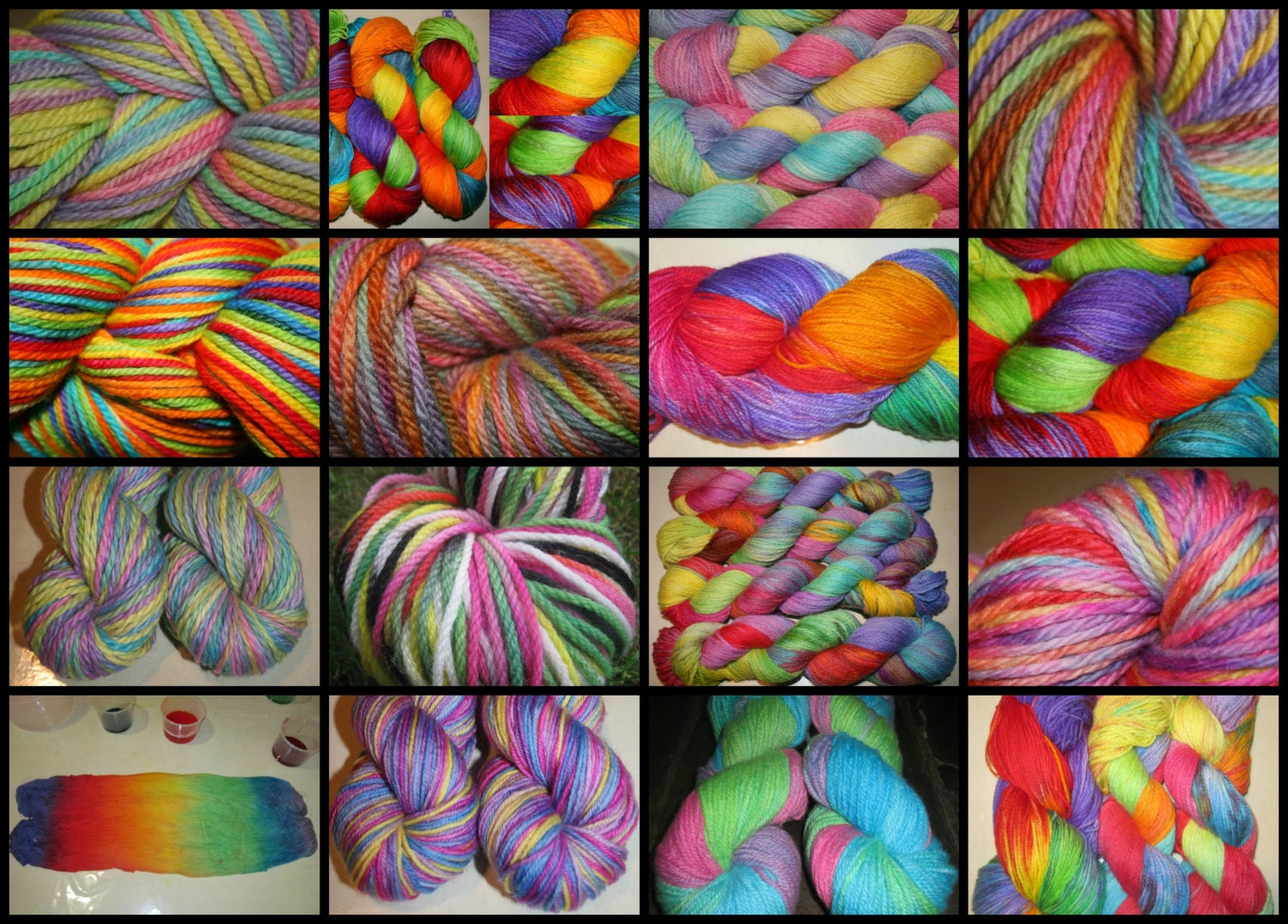 Welcome to a new edition of Friday Friends dear readers. There are no set plans this weekend for the Maddabling household, except to start on some prep work for Summer Street. If the weather is nice, the gardens beckon, hopefully the black tuscan kale seedlings I have on order will arrive at the nursery for me to pick up so I can get them planted!
This week it is my great pleasure to introduce you to a new Friday Friend and DUSTy Diva, meet Angie of Angie's Studio.
Angie creates exceptional hand dyed yarn in every colour, shade and hue of the rainbow. I myself, have not been blessed with the ability to knit or crochet and wish that I could, just so I could create masterpieces from these gorgeous yarns.
Let me share these treasures with you - hand dyed Mulberry Silk DK Supersoft Yarn, with 112 metres to 50gm skein. I love the blend of coral and orange!

Want a unique stocking stuffer for the knitting or crochet-holic this Christmas? Try the made to order Bright Rainbow Yarn! This is 10 ply and machine washable.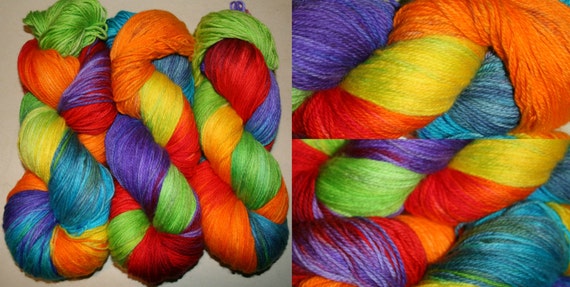 I also love the shades of aqua, pale blue, jade and green in this hand dyed Lace Weight blend of 70% Baby Alpaca, 30% Silk. There is 800m per 100gm skein.

Dear readers, time now to commence Unravelling the Yarn on Angie's Studio. Have a wonderful weekend and happy reading! See you on Sunday night for the weekend blog post xx
Unravelling the Yarn on Angie's Studio
Hi, I'm Angie and I'm a yarn dyer. I think of myself as an artist whose canvas just happens to be skeins of yarn.
I began dyeing yarn for myself to work with as a knitter and crochet artist, and quickly fell in love with the craft of splashing colours around and watching them soak into the fibre.
It is so therapeutic, yet an adventure at the same time…its so exciting.
The excitement comes with watching the finished product reveal itself after the heating process is done, and as the yarn dries, and then again when I reskein the yarn to see how the colours blend together.
I work with a variety of protein (animal) fibres such as merino wool, alpaca, cashmere, angora, and mohair.
Generally when I start a day in the dye studio (my dining room actually), I have a few ideas for colourways floating around in my head, sometimes I write a list, and other times I just have a look at the colours of my pots of dye powder and see what pops out at me.
I tend to go with brights, and bold colour mixes…they cheer me up and just make me feel fantastic.
Dyeing yarn is a process which very much depends on my emotions. Pretty much, I do what makes me feel good.
I play with colours that I enjoy. And with luck, I am able to translate that raw emotion (happiness, joy, fun, warmth, and well…all the good stuff) to the yarn and in turn to my customers.
I love that the process I use to lift my mood and brighten my day, then results in supplies (in the form of yarn) which can then be used and handled by others in their crafting process. Be that knitting, crochet, weaving, and where-ever their imagination may take them.
I really get a kick out of seeing photos of finished items made by the people who buy my yarn.
Makes me smile!
And that's what its all about.
One day, I'd love to have a space dedicated to all my stuff that I need to work with, so an actual studio.
For now I work around my very tolerant family, but they know it makes me happy so the don't complain, in fact sometimes my kids and Hubby also like to dabble with the dyes too, they all enjoy it.
Anyone can do it!
I also dream of my "Works on Yarn" to be in demand worldwide, and would love to one day kick production into a larger scale project.
Dream big, they say…so I will!
In the meantime, I will focus on the smaller steps of improving my equipment, increasing my production, and improving my service.
I actually enjoy the business side of things too, and have been doing lots of reading on the subject and even studying the topic through an online course.
Plus networking with other small businesses both other dyers and crafty business people and more general small businesses.
I am pretty passionate about supporting each other and learning from each other
.
There is a great support system there at the ready for small business if we just have trust and tap into each other's areas of expertise.
I never want to forget to enjoy what I'm doing and to have fun.
After all, the good time I'm having while I dye the yarn translates into colours which people connect with and want to use for their own craft.
If I had to give any advice to other artists, it would be don't lose the enjoyment…it truly translates into what we create.
Dear readers, do you want to see more? Here is how you can connect.

Buy lovely yarn on Etsy here:
and follow Angie's blog here:
http://angiesstudioyarn.blogspot.com.au/
and connect through Ravelry here:
http://www.ravelry.com/groups/angies-studio-hand-dyed-yarns-australia