Dear Readers I hope Friday finds you well. Maddabling took a little holiday this week and has been enjoying some time in the Busselton sun, enjoying amazing food and wine, and of course the company of her wonderful husband - we have been off celebrating our 14th Wedding Anniversary !
This weeks fabulous Friday Friend is a fellow sandgroper, a West Australian Etsy Artist and seamstress extraordinaire - I am thrilled to introduce you to Jade from Suzi Homemaker!


I have recently featured some fab retro artisans and designers on the Maddabling Blog and Jade is no exception to this rule. Her creations, are cheeky, girly, sexy with the right mix of sassy flair - very easy to fall in love with this range, which I am sure has led to the unleashing a new wave of desperate housewives, domestic divas and hostesses with the mostess ! Here are a few stunning retro pin-up styled images of Suzi Homemaker creations just to get you started ... these sweet pics are perfect for showing off the gorgeous Suzi Homemaker wares........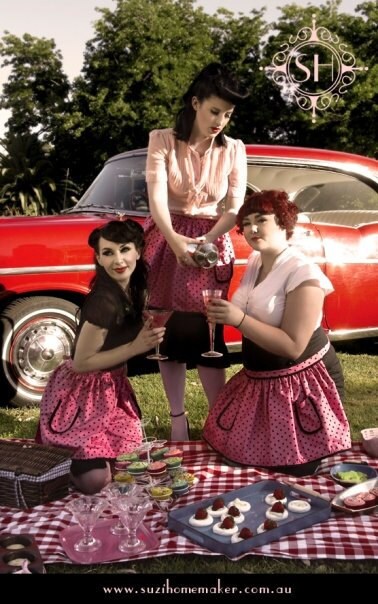 Dear readers, I now extend an invitation, on behalf of Suzi Homemaker, to attend the exclusive virtual
Suzi Homemaker Soiree
to be held below, don't forget to bring a plate to share.... enjoy !
Your Invitation to Suzi Homemakers' Soiree
Suzi Homemaker is your hostess with the mostess, a baking beauty and a sizzling apron queen! This domestic diva with a wild side has her finger in many pies – what with spying on the neighbours, mixing cocktails and sewing up a storm – she's one busy lady!
Suzi came around and woke up with a headache back in 2006 – this girl needed to do something with her life! No more wild drink and glass bowl parties (well maybe some), no more boring frumpy pinnys for hostesses - Suzi was coming to the rescue. Mulling over few hair-of the-dog champagne saucers (to ward off the hangover of course!) dastardly duo Miss Suzi Homemaker and Miss JamJam took to creating the best damn apron library this side of sober, making sure the ladies of Perth looked and felt special – even while doing the dishes.
Since Miss JamJam's foray into making the cutest hair accessories in P-town under her own label of the same name, Miss Suzi Homemaker has developed the label's repertoire to include millinery and clothing, plus frivolous flirty hostess aprons (doubling as summer capelets) for the hussy hausfrau in everyone !
These days, Suzi gets her kicks not only from champagne, but from seeing ladies wearing the label's creations in all kinds of settings – parties, kitchens, gigs and out in the street! Getting orders from over east or overseas tickles this hapless housewife's travel bug…and Viva Las Vegas calls, you gotta answer! Whilst in the land of the free for the month of April 2012, SH is vying to seduce several overseas stockists. Meow! Currently getting freaky with the tiki on an island off the coast of Florida… here's hoping Suzi has time for a few wanton holiday flings with other retailers.
Suzi's proudest achievement to date was opening the
'Salon de Salope'
pop-up shoppe with 8 other amazing Perth labels/entities as part of 'Outskirts' during the
2011 Perth Fashion Festival
. The shop's live window displays featuring some of Perth's most gorgeous girls sure did grab attention! Crowds of people brought the footpath to a standstill outside, with the more adventurous coming inside for a peek. Stocked to the brim with glamorous hats, lingerie, aprons, bags and more, showgirls in cages and cheeky bondage and pastie/tassel twirling classes set off the whole event.
As you may have guessed, Suzi doesn't do things by halves. Bakers, burlesque starlets, glamour nanas and more- we have everyone covered in our adorable polkadot, classic poodle and trampy leopard print pinnys (just to name a few)! Inspired by all things sweet and sassy, Suzi's range attracts the wandering eyes of pinup and punk rock queens alike. Baby pink not your style? Try our
'Girl in a cage'
purple leopard print aprons instead!
Suzi HQ is currently working hard on new apron designs, custom orders and a whole bunch of latex before we take off overseas, but she promises to be back…after all, there is nothing better than good-old Western Australia.
Suzi may hark from the days of typewriter ribbon and carrier pigeons, but she also loves the way so many people can now connect and share with the invention of the internets.
In the spirit of sharing, here is Suzi's
Recipe for Gorgeousness
:
Tip: For best result, use only local ingredients.
Cake :
Every delicious recipe starts with a luscious base, so cover those cupcakes in
Kiss Me Quick
Icing :
Whip together one part sweet and one part sassy by combining your favourite SH skirt and apron to taste (we like 'Hounds of Hell' mixed with 'Baby Cakes') as pictured.
See:
www.facebook.com/suzihomemaker
or
http://www.suzihomemakerau.etsy.com/
for variations.
Colour :
Add a little colour from
vixen express
). Mix well.
Embellishments/decorations :
Sprinkle
Miss Jam Jam
liberally over the top.
Final touches :
add a pinch of Jessica Frankenstein
dear readers if you want to explore some more - here is a
list of links
for you to check out !
check out the
website
:
http://www.suzihomemaker.com.au
read about Suzi Homemaker at this model mayhem page :
http://www.modelmayhem.com/1211192
buy lovely things at the etsy store : www.suzihomemakerau.etsy.com
or follow sweet tweets on
twitter
here :
http://twitter.com/#!/Suzi_homemaker