Hi there readers - what a short week for West Australians with Monday being a public holiday. Why are short working weeks always seemingly busier - is it because we fit five days worth of work into four ? That's my grumble over...... have you got wonderful things planned for the weekend ? I am hoping to do some more listings on Etsy. Ooh and while I remember, a quick shout out for DUST Team Members - don't forget to go to
dustteam.com
to lodge your votes for the
DUST Team Awards 2012
. The next
DUST Team Craft Swap
sign-up thread has been opened over on the
dustteam.com
forum too - if you want to check it out !
This week I am thrilled to introduce a new Friday Friend - the lovely Olivia - a fellow West Australian and Etsy seller from
Bruce Loves You
!
I was quite taken with the seemingly simple and bold bright designs (knowing a little of how graphic design works I know that these designs are anything but simple) that encapsulate the essence of geek and popular culture. Olivia I feel has managed to figuratively "bottle it and sell it" ! OK now for my favourite bit of presenting the Friday Friend blog post. Some favourite picks to share with you from Bruce Loves You !
Who loves a hero ? Meet the handsome Captain America in this striking poster ! Perfect for a teenage boys room, timeless in design. Or a grown-ups room too for that matter ;)
Is Harry Potter more your style ? You simply can't go past these ubercool Dark Mark Temporary Tattoos !
Or perhaps your thing is the good doctor - Who I hear you ask ? Sorry readers, I couldn't resist the pun - personally though David Tennant is still my fave Dr Who of all time.


Lov

ely Maddabling readers, time to unleash your inner geek and turn the virtual pages of the Bruce Loves You Comic Strip ! See you on Wednesday for a new set of Wednesday Wishes - have a fabulous weekend xo
Bruce Loves You Comic Strip
Who is Bruce loves you ?
My name is Olivia. I'm a graphic designer based in Perth, WA. I design magazines for my day job, volunteer at
Random Acts
(
therandomact.org
) as their Creative Arts Manager, and sell geeky designs online ;)
I started selling my designs online to raise money to help rebuild Haiti, and from when I started about 1 year ago, I've raised well over $5000 for a few different charities through my shops.
What inspires you ?
Definitely pop culture. The movies and TV shows I watch and the music I listen to!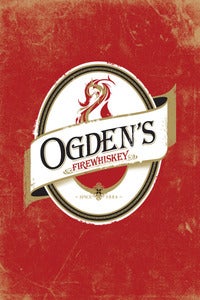 What mediums do you work with - do you have a favourite ?
Mostly digital. I love working with typography and vectors.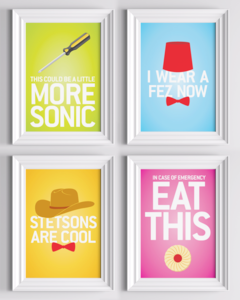 What kind of things do you make/create ?
Posters, cards, Badges mostly within the Doctor Who, Supernatural and Harry Potter fandom.

Do you have a favourite piece that you have made/created ?
My favourite would have to be the Supernatural posters. I designed them for my own benefit, but Supernatural fans loved them so much I ended up selling them.The profits were donated to Hope to Haiti, Red Cross Australia and UNICEF.
What are your future plans,dreams,aspirations ?
I've booked a stall at the Melbourne Supanova convention, which is a pop culture convention. I've been preparing like crazy at the moment for that. I'm hoping to do much more hand printed works in the very near future.
Want to get your hands on some of this wonderful Bruce Loves You geeky goodness ?
You can connect here :
Buy cool geeky stuff at the online store here :
http://www.brucelovesyou.com/
or on Etsy here :
http://etsy.com/shop/brucelovesyou