Hello Friday my dear friends. Another week passes and the Spring weather is being somewhat temperamental on the South Coast. There are still plenty of orchids to be found on bush walks if you look carefully and the elusive Southern Right whales seem not to have made much of an appearance this year. Have you got anything special planned for the weekend?
This week I have a really scarily creative Friday Friend and Australian Maker for you to meet, it's the lovely Hillary of Little Green Cat.

I love these monsters which could easily hide under the bed. They each have their own distinct personalities and features.
For example, meet this sweet "

Totem Pal - Lemony Chomp.

This lady just LOVES to sunbathe! Her super soft fluffy coat is the product of many hours of careful massage by the sun's rays and is ready to warm your hands and your heart.

Those fangs may look a little vicious

but don't fret- they are just for juicing lemons, Lemony's favourite sunshiney food! She is 100% people friendly and just loves to cuddle."
There are also miniature monsters - Dustbunnies in fact. "Dustbunnies! Little balls of cheer for your desk, kids, pets or wherever the rainbows don't quite reach."
With Christmas coming up, why not order a custom sloth to delight your niece/nephew/son/daughter/grandchild/inner child! Choose your fur colour and then request the features i.e. horns, multiple eyes, big teeth (remember these can be tailored to your wishes, your imagination is the only limit).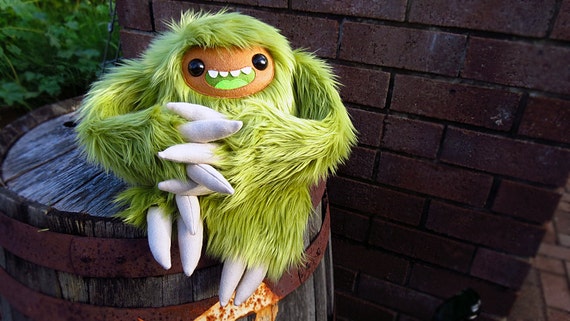 Dear readers, I invite you to explore the world of Monster Mayhem with Little Green Cat, this weeks super Friday Friends Edition. Happy Reading xx
Monster Mayhem with Little Green Cat
Little Green Cat is a weeny toy business based in Adelaide, SA. It is run by a fat cat called Hillary and supported by a tall handsome fox and their two dogs.
I have always been a creative sort. Even as a kid I used to prefer drawing to social interaction. Nothing much has changed, although I think I'm a little better at both these days. So many crafts have passed through my hands- crochet, knitting, scrapbooking, painting, Perler, soaping – none of them quite felt the same as sewing. I love texture, interaction and the tactile experience and fabrics just push all the right buttons.
In April 2014 I was made redundant from my job as an I.T. Trainer. After working long hours for almost seven years and about to turn thirty, I figured now was my chance to kick start my creative dream and my wonderful, patient, endlessly supportive husband told me to go for it. So I funnelled my redundancy pay into starting Little Green Cat.
At the moment I am focusing on plush toys based around the drawings and doodles my brain constantly spews forth. Big smiles, bright colours, beady eyes, simple forms and lots of character are the key traits that guide my creations. I love working with super soft premium faux furs, felt and fleece, anything fluffy or soft and I'm totally smitten!
Seeing each character come to life is immensely rewarding, as is sending them off to adventure through life with their new owners. I value quality and durability in my toys as I want people to play with them, for people of all ages to be able to pick them up and feel that childlike glee when they find a fabulous new friend. It is my greatest wish for every one of them to be a lifelong companion and end up so worn and threadbare that they are almost unrecognisable; where every balding, tattered inch tells a different story.
My goal in life is to bring smiles to the faces of as many people as I can, through generosity, stupid jokes, word play, surprises and hairy monsters. Not a huge achievement really, but it makes every day a little brighter!
Hoping one day to exhibit at Designer Con in the US and ToyCon in the UK.
Until then, here's a list of places you can find my hairy friends:
Nov 21st-23rd 2014 at Wayville Showgrounds, Adelaide
Dec 6th-7th 2014 at 230 Flinders Street, Adelaide SA
Plus selected markets around South Australia- please check my Facebook page for market dates.