Happy Friday lovely Maddabling blog readers, I hope this post finds you well.
My goodness it has been a chilly one this week, I am looking forward to a weekend of soup making and will share a new soup recipe with you all this weekend. Today I am absolutely thrilled to introduce you all to a new Friday Friend, DUSTy Diva and talented West Australian Maker - meet Rosemary of Plumfish!

I have been a fan of Plumfish creations for a very long time and must confess, I am the proud owner of a pair of custom Plumfish fingerless gloves and a gorgeous winter scarf ♥
Here are some other pieces that are in the Plumfish collection on Etsy that I had to share! This
Recycled Sari Silk Rosette Statement Necklace in Olive and Bronze is such a gorgeous wearable art fiber piece.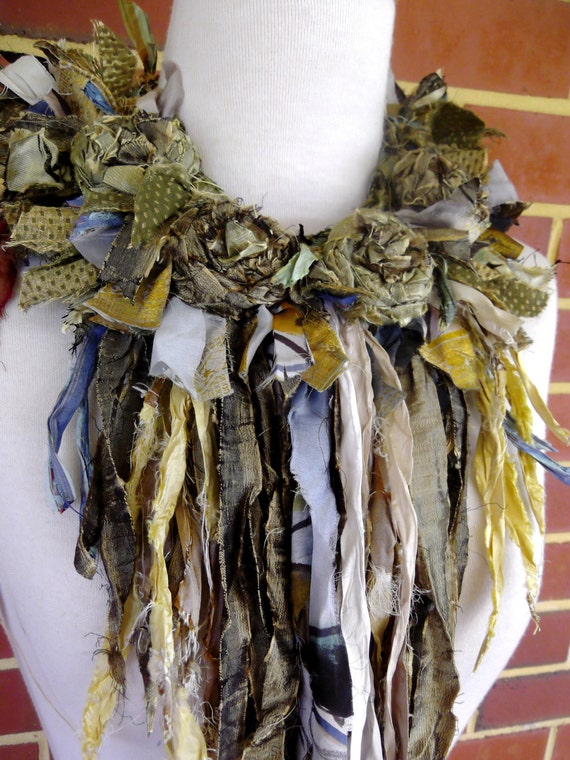 I LOVE this
recycled silk bohemian single rose cuff bracelet in pretty pinks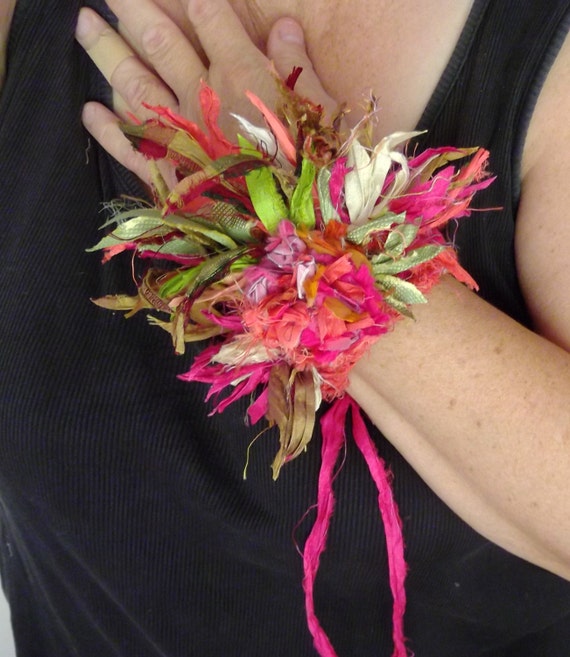 and this Hand Spun Bulky Art Yarn Natural Rustic Woodland Scarf Wrap (which is also on sale) will keep away the winter chills.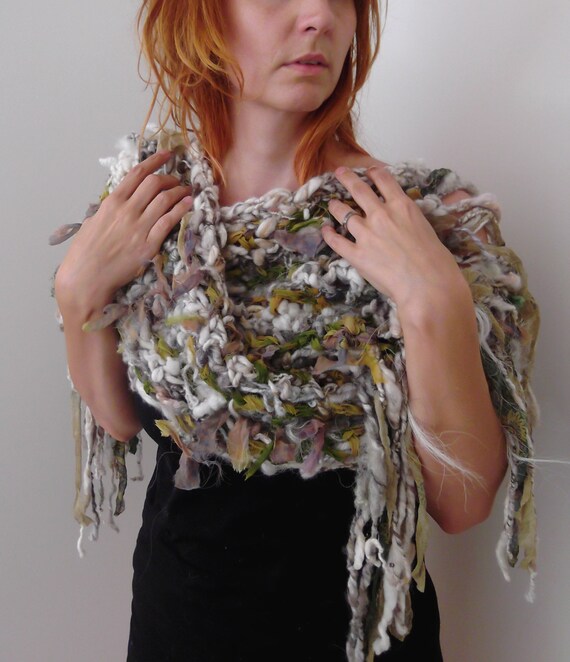 I invite you now dear readers to take some time to read
A Plumfish Yarn.
I hope you enjoy this story as much as I did. Have a fantastic weekend and hope to catch you on Sunday for the weekend blog post.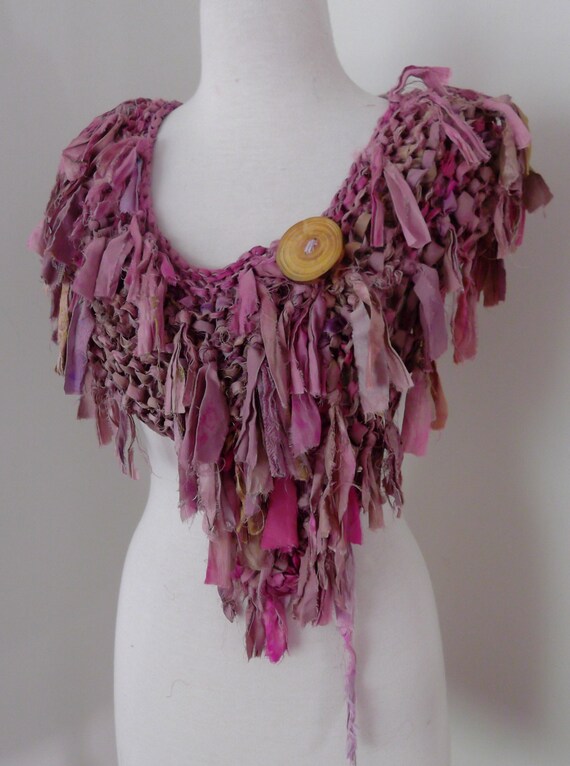 A Plumfish Yarn
I have always loved this verse from Psalm 139: For you created my inmost being; you knit me together in my mother's womb.
I think that's where the journey began... I think I must have been created with an innate passion for all things fibre - because I don't remember a time when I didn't knit, sew or crochet.
My mother was a wonderfully creative woman, a professional dressmaker and designer.
My grandmother though, was the one
who had the enthusiasm and patience to teach me how to knit and crochet when I was very young. She was self taught; an Italian migrant with limited English, who was never allowed to learn to read or write but when it came to knitting or crochet, she would only need to look at a sample, or a photograph, and she would know what to do.
In my growing years, my mother was of the opinion that one should never sit without something in their hands. She would often quote the saying "idle hands are the devils playground". While I never understood that saying, I never ever, sat without my knitting, crochet, or sewing... I used up all the scraps I could find and I still love scraps!
In my early adult years I knitted for the family... all very traditional things - all very neat, conservative and precise - all from patterns.
In my mid thirties I decided to go back to university to study nursing. It was a very busy and very fulfilling time in my life. My hands were always busy - so busy in fact, that for many years I did not pick up a needle or hook.
I have recently retired;
I have wandered for a while through a few deserts and dark times but my love for fibre, and passion for art has rekindled! There are now not enough hours in the day to create , and there are so many things I want to learn, so many things I have never tried.
I need to thank my daughter Holly for freeing me from the conservative and traditional things of life and art. She is an amazing young woman - one of the most talented and creative I have ever known - and of course I am not biased!! She has always encouraged me to create those things that spring forth from the soul, she has enabled me to overcome the fear of just being me - in letting the bohemian within come out once in a while.
My work these days is more about the reflection of that free spirit within - which at times, still struggles to fly.
My work has been called flamboyant, colourful , crazy, zany, bohemian, avante garde, out there.
Usually people either love it or hate it.... either way, like any piece of art, it will evoke a response of one kind or another! An
d I truly am OK with the negative comments as well. My work is not for everyone; it's certainly not for the faint hearted!
I now follow my daughters teachings - that at the end of the day, if you like your own creation - it doesn't really matter what others think... so continue to create in the intuitive way that is your own unique style...
I call my style earthy and raw, organic, distressed, messy, raggy, scrappy and tattered... Whether or not it can be labelled as a particular style - I don't really know!! But I guess it doesn't matter.
I love rich, vibrant, dancing colour... colours that want to be noticed... and textures that long to be touched...
People say they cant walk past my creations without touching them - I love that!
I love to work with recycled sari silk - some of my favourite pieces are made from silk. But I love wool too, especially beautiful locks, and fuzzy yarn.
I love handspun, and I love felt. I would love to learn to weave!
My house is always a mess - there is fluff, wool, yarn, silk, needles, hooks - all sorts, everywhere!
The beautiful things of the world inspire me... nature, animals, children and laughter, people of peace and love... strength and courage.
I have never been much of a dreamer, or future planner - I'm too much of a realist; too grounded in the present; too busy to worry much about tomorrow.
I know that I want to continue to create, to play with my grandchildren, and to laugh with them hysterically, at nonsensical crazy things.
I have all I could ever hope for, I am truly blessed.
Dear readers, would you like to see more? Here is how you can connect.
Become a follower on Facebook here:
https://www.facebook.com/pages/Plumfish/189165537834288
and buy lovely things on Etsy here: