Hello readers, welcome to another edition of Friday Friends. Roller Derby is something that has become very dear to my heart as Freshmeat skater in a developing league. And t
oday I am super super excited to introduce to you a very special maker.
Meet the truly fabulous Helen of Hellcat Clothing!
I have a pair of the Hellcat Clothing Derby Shorts, they have great cover and are designed for real size women :) They don't ride up and look fantastic on!
There are a couple of other items on my Hellcat Clothing wish list and they include a super practical Nautical Anchor A-Line Roller Derby Skort,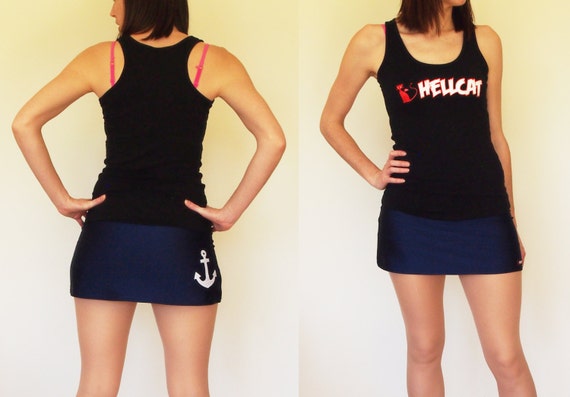 a pair of super cute Ruffle Butt Roller Derby Shorts and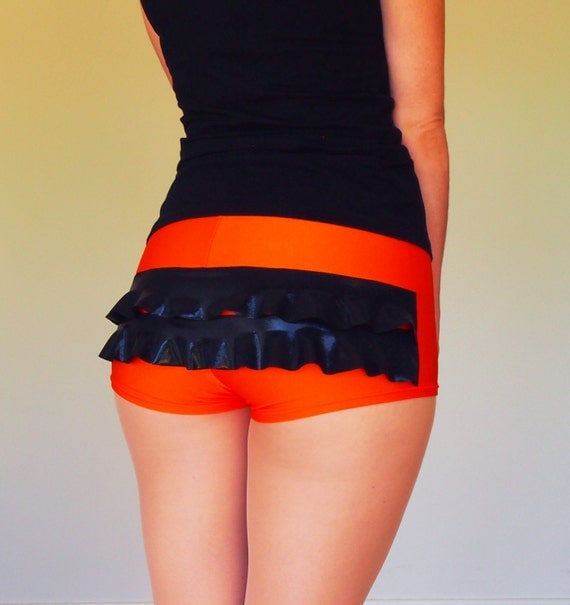 a pair of Magic Star 3/4 Length Leggings.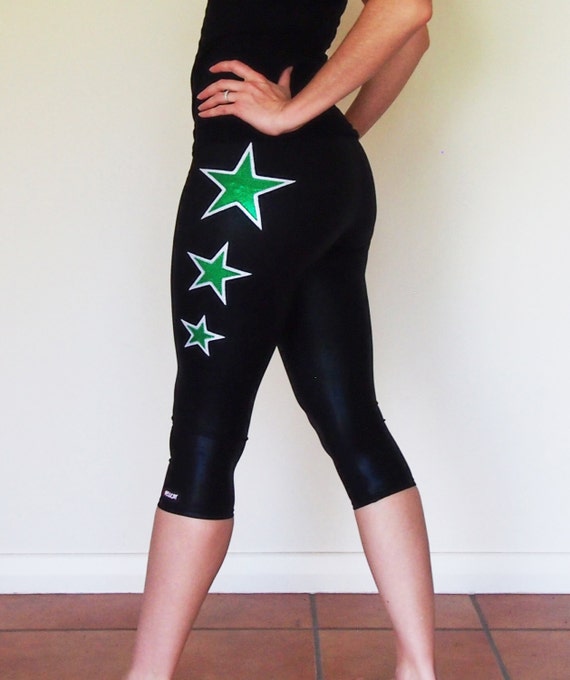 Readers, I invite you now to read the Hellcat Clothing Chronicle. Have the most fantastic weekend and see you all next week for a new edition of Thursday Thoughts xo♥
Hellcat Clothing Chronicle
Hellcat Clothing is a clothing label run by me, Helen, otherwise know by my roller derby name GoGo Fiasco. I make colourful, crazy, and comfortable active wear and other fun stuff.
Making clothes has been a pretty solid part of my life since my mum taught me to sew. I've always enjoyed created something unique for costume parties, festivals, anytime I could find to dress up. It meant I could wear exactly what I had in my head, no matter how outrageous it was.
I started playing roller derby in 2008 and it wasn't long before my love of making outfits made it's way to my roller derby uniforms (or boutfits as we called them). Individuality was nurtured in this sport where you could completely be yourself and wear just about whatever you wanted.
As time went on and roller derby turned into a bit more of a serious sport, I started craving functionality. I found it really difficult to find clothes that were comfortable, would stand up to the rough and tumble of the sport, but still meant that I could express at least a little bit of individuality. So I started making more sporty clothes.
Pretty soon friends and teammates were asking me to make their outfits too, and before I knew it I was on Etsy selling roller derby shorts all over the world. Now I make a range of clothes for roller derby, although they are used for so many other things from circus performers to pole dancers to martial artists and wrestlers.
Etsy has been amazing and a really important part of setting up my business. The seller community is so helpful, and Etsy shoppers love anything a little left of centre. It's also helped me gets my products seen outside of
Australia, with a lot of customers in both the United States and Europe
.
My two mantras are functionality and individuality. If active wear isn't comfortable there's no point to it. But my favourite thing about creating is that every pair of shorts is different. My pieces are custom made to the idea that exists in my customer's head, and helping that become a reality that they can wear is pretty special.
Other than full custom made designs I also have lots of pre-designed products, but I still like to let the customer have full choice of colour combos, using different fabrics and textures to match their team colours, personality, or taste.
My day to day inspiration are the derby girls. They are such an imaginative and creative group of women, and the ideas they have for their uniforms are as varied and clever as their roller derby names. I bounce off my customers and together we come up with all sorts of crazy things. I am also inspired by colour, texture, sparkly things, combinations of fabrics, and how visual combinations, colours and shapes, can make you feel different things.
Readers would you like to see more? Here is how you can connect: