Happy Friday lovely readers. Did you have a fantastic week? I certainly did. Lots of lovely warm winters days even though we had icy car windscreens first thing in the mornings. Today I want to introduce to you all a new Friday Friend, DUSTy Diva and Australian Artist; meet Anne of Bungleboorie.
Anne is a very clever creator, with many diverse skills. Let me share some of her work with you now.
Being particularly fond of landscape photography, I really felt drawn to "Capertee" - Oil on Canvas. Those rolling hills and clouds!
I am sure that I have mentioned before that I have a particular soft spot for owls, this Bronze Owl Brooch is no exception. I simply adore it!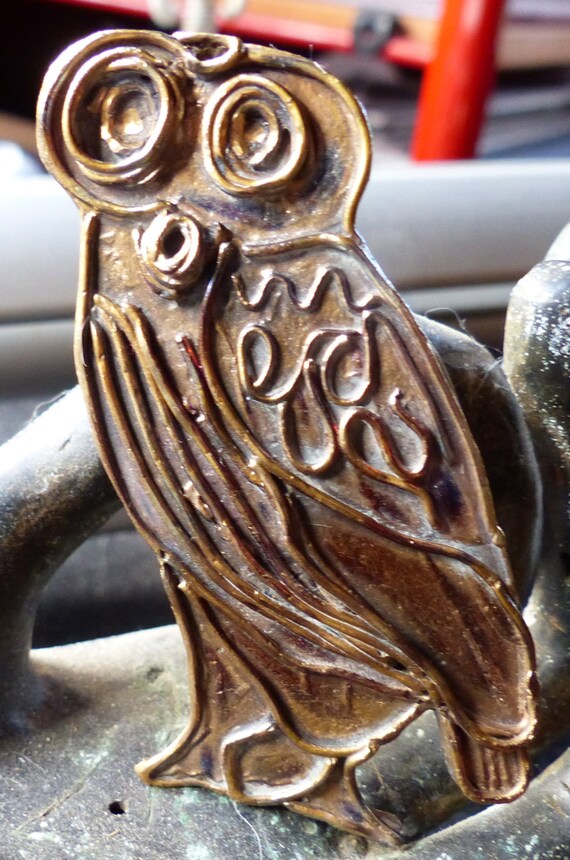 While browsing through the gorgeous works that Anne creates, I found "Little Heron Girl."
This is a potrait of Tessa the Little Heron Girl, isn't she beautiful?
Dear readers, I invite you now to read The Story of Bungleboorie. I personally found this very inspirational.
Have a fantastic weekend everyone xo
"
The Story of Bungleboorie"
Where I Live and how it influences my work...
Bungleboorie is an aboriginal, Wiradjuri word, describing an area where I live in the bush in the Blue Mountains of New South Wales. It is "pagoda country" with big rock formations and many diverse fauna and flora.
These include the Wollemi Pine, banksias, boronias, heaths, kangaroos, wombats, quolls, lots of snakes, no crocodiles or mammoths, bush fires, tall eucalytpus trees, owls, black cockatoos and white cockatoos, king parrots, rosellas, lyre birds, kookaburras, poor soils and lots of waratahs.
My studio was a shack I built but burnt to the ground in last years bushfires. I am now waiting for my new studio to be built - a tin shed on a ridge looking out onto the burnt out rock formations in the valley below.
How did I get started... Before the fire I taught High School art and worked alongside my students often gaining inspiration from them. Children are very free with their art using colour and form to match their dreams.
Now the journey begins for me working with terra cotta and porcelain clays, making bronze pieces and lampwork glass. During winter and spring I will make 3D and summer and autumn packing up the car with lunch, easels, oil paints, 2 dogs and going "bush" to paint outside.
Other Inspirations.... Italy, especially the renaissance period...cave art...anything Moroccan especially architecture, Turkish Iznik pottery and many other early art periods...browsing online artists works especially on Etsy.
Market Plans... I hope to join the Blue Mountains artist's trail and have studio openings and perhaps, interactions with fellow artisans visiting and perhaps working in the studio for a day or two in exchange for a thrown pot or two!
Perhaps a new phone, my students said my current one is "not cool" and twitter, tweet, Facebook and blog...so as the Lyre Bird in the valley below hails the end of the day, my journey continues to connect to the seasons, the stars, the beautiful fauna and flora and make more art.
Dear readers, would you like to see more? Here is how you can connect!
You can bu
y lovely things on Etsy here:
https://www.etsy.com/au/shop/Bungleboorie
and view her portfolio online here:
http://www.colourinyourlife.com.au/community/2485-anne-smith/profile