Welcome dear readers to another edition in the Friday Friends series. I sincerely hope that your collective weeks were nowhere near as hectic as mine! Maddabling intends on a little pampering this weekend with a trip to the hairdresser and trialling a new tea based cupcake recipe - stay tuned!
This week it is my great pleasure to introduce to you all a new DUSTy Diva and Friday Friend - lets give a very big welcome to the very talented Loretta of Stella Violet!

I must admit, I am quite captivated by the prints that Loretta creates. They are colourful and whimsical with lots of different shapes and visual textures.
I really do love Art that you can see something different in each time you pause to appreciate it.
Let me show you what I mean.
Take this divine Northern Sky Print. Love!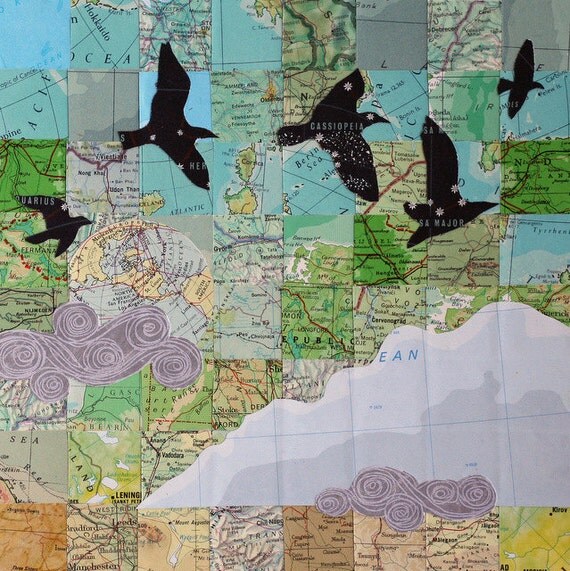 Also, the delicious

Half a Wish print

, with machine stiched border
and another personal fave I discovered - the Sprout Tiny Print.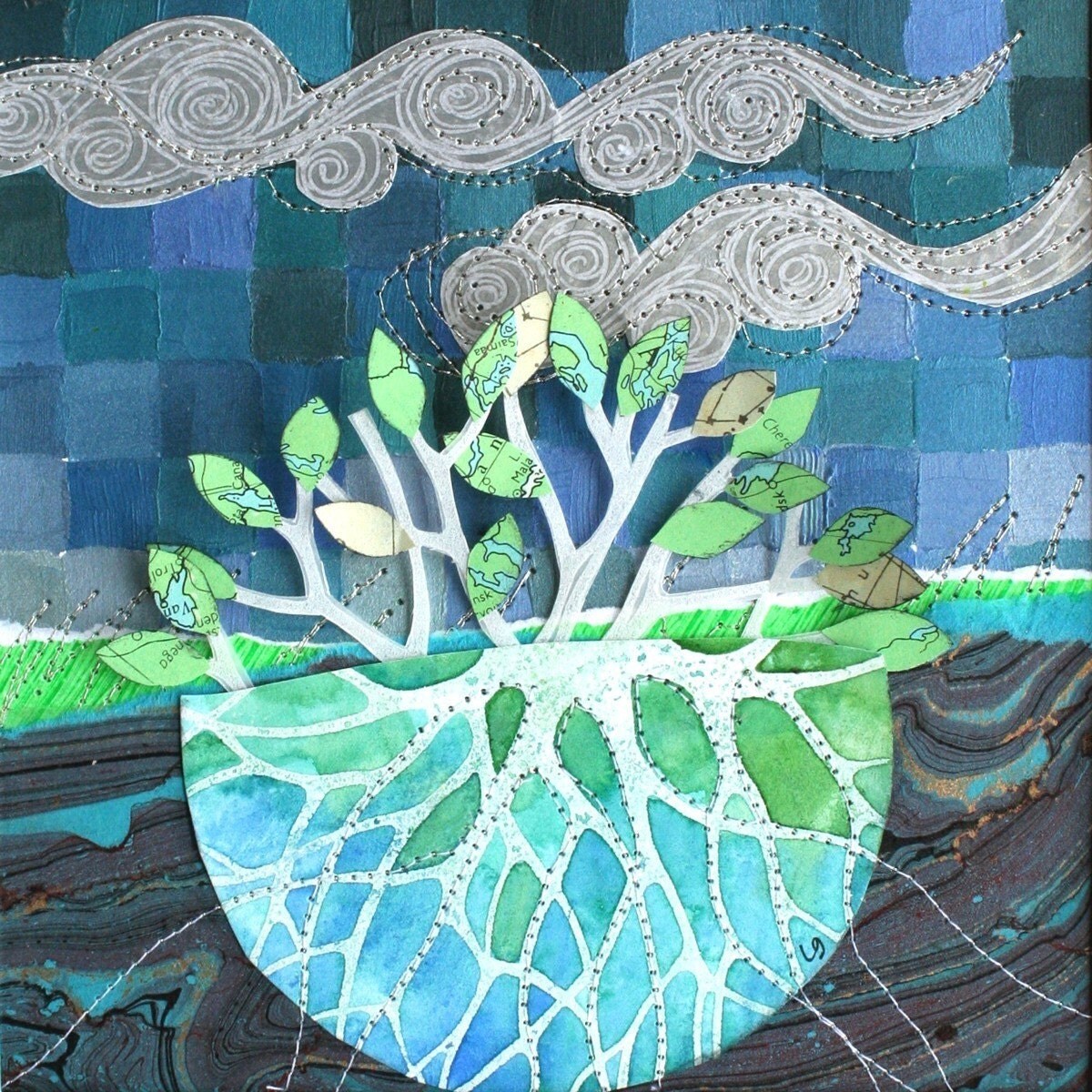 Readers, I now invite you to put your feet up, and take a bit of ME time, just for a short while to indulge in the inspirational Stella Violet story. I hope you enjoy reading it as much as I did. See you all on Sunday for the Sunday Blog Post xo
I live with my husband Peter and our three children on a farm in Queensland. I am the artist behind the Etsy shop StellaViolet, where I sell prints of my artwork. I work part time as an art gallery assistant, and the rest of the time on my own work.
How and When did your handmade/artistic journey begin ?
I can't remember a time when I wasn't creating something with my hands. Some of my favourite memories of childhood are the creative things my sisters and I used to get up to - making things in the backyard with sticks and flowers, drawing our own paper doll clothes and learning to sew on toy sewing machines. The Childcraft "Make and Do" book was never far from my side.
What Inspires you ?
I'm very inspired by words. The art journals I use to record new ideas often have more words than pictures in them. Beautiful passages and lines from books I have read, poetry and song lyrics stay in my head for weeks, sometimes months after I have read them, gradually turning into images. Creating for me is a process of catching ideas and examining them.
It's an attempt to take the big ideas and half-remembered things of my messy inner world and distill them into small, neat worlds on paper.
I'm also very inspired by colour and pattern, travel and map imagery and the book illustrations of my childhood.
What mediums do you work with - do you have a favourite ?
At the moment my favourite medium is gouache. It's so creamy and beautiful to work with, and is perfect for my illustrative style. I also love the saturated colours of oil pastels, and occasionally paint in acrylics. Vintage map papers find their way into my work quite often, and every now and then I dig out my Gocco to do a little screen printing for my collage pieces.
What kind of things do you create?
I paint, usually on paper but occasionally on canvas. When I'm not painting I'm working with paper, creating coptic-bound books, paper collage artworks and origami, or making prints for my shop. I love crochet, and usually have several crochet projects on the go. I'm also very good at creating a mess.
Do you have a favourite piece that you have made/created?
One of my favourites is an oil pastel painting I did a couple of years ago, titled "Backyard with Fireflies I". It has been one of the best-selling prints in my shop too, along with "Backyard with Stars". I rarely get too attached to any of my original pieces, and I'm happy when they find a new home. I find that exhibiting and selling artwork is a lovely way to make a "clearing" for new artwork and inspiration to come along. One piece that I am quite attached to, however, is "No Geography". Apart from that, my favourite is usually the most recent one.
What are your future plans/dreams/aspirations ?
A proper studio space is one of my plans for the near future, as for the last few years I have been gradually taking over more and more of our house. Another short term goal is to introduce some new products to my etsy store, such as greeting cards and some original artworks. In the long term, making a living out of my art is something I aspire to. I dream of spending my retirement years as an eccentric old lady, travelling the world with a sketchbook.
Dear readers, do you want to see more? Here is how you can connect!
Buy lovely things on Etsy here:
and follow the Stella Violet Blog here: