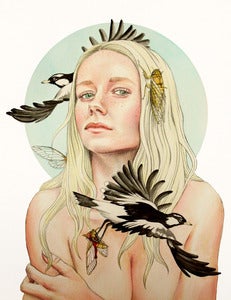 Happy Dance time lovely blog readers - it's Friday! Did you have a good week? I was spoilt by my lovely valentine, I hope you were too.
This week it is my great pleasure to introduce a very talented local artist Eve Young.
Eve's portraiture art is nothing short of sublime, beautiful creative works that are whimsical and feminine, yet with little touches that make them truly original. Nature is a strong influence, and I find some of the pieces Eve creates have surrealist elements. In short, I really love Eve's work. Here are a few gorgeous pieces that I feel compelled to share with you. I hope you love them too.
Dear readers, I invite you to now take some time to wander through The Virtual Eve Young Gallery and learn more about the creativity and influences that drive Eve. Have a wonderful weekend everyone xo
The Virtual Eve Young Gallery
Hello! My name is Eve Young, I am a visual artist living in Albany, Western Australia.
I was born in England in 1985, and migrated to Australia with my family in 1993. I have always loved to draw, and as a child I was always encouraged to be creative and make things.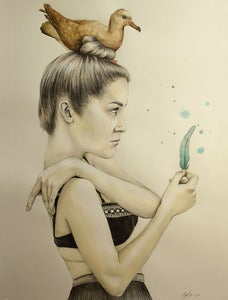 Since completing my Bachelor of Arts in Visual Arts at Edith Cowan University in 2008, I have had 3 solo shows and exhibited in various exhibitions in Western Australia, Melbourne and Brisbane. My work has also been published in the Curvy and Semi-Permanent books.
Most recently I've been creating artworks in watercolour and pencil, but when I have the time I love to use oil paints on recycled wood and other found objects, as I enjoy the history connected with these type of
materials.
My work is autobiographical, focusing on my experiences and memories as a child and from my travels, using portraiture with glimpses of animals and plants from my surroundings. My images of birds
representing migration and my yearning to travel.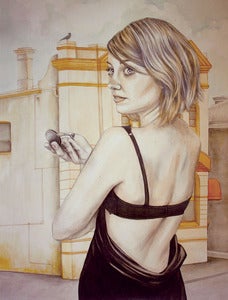 Dear readers, would you like to see more? Here is how you can connect with Eve Young Gallery.
Visit the Eve Young Web Page at www.eveyounggallery.com
and buy lovely things from the Eve Young online shop here:
http://eveyoung.bigcartel.com/