Merry Christmas Eve to all of the lovely Maddabling followers. I would like to share a sweet poem with you from
kidspot.com
that is sure to make you giggle just a little. It's called
Puppies Christmas
. Anyone who has raised a puppy will understand this completely ! Although I am sure parts of this poem would also apply to children and kittens too ;)

It's the day before Christmas
And all through the house

The puppies are squeaking
An old rubber mouse.
The wreath which had merrily

Hung on the door
Is scattered in pieces

The stockings that hung
In a neat little row
Now boast a hole in
Each one of the toes.
The tree was subjected
To bright-eyed whims,
And now, although splendid,
It's missing some limbs.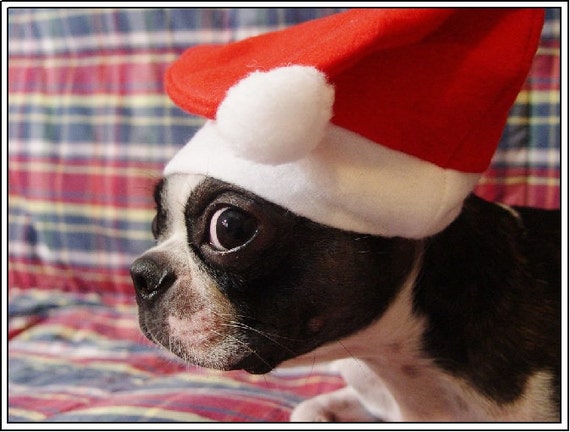 4 Dog Puppy Boston Terrier Christmas
Greeting Notecards/ Envelopes Set
by ASLICEINTIME

I catch them and hold them.

"Be good", I insist.
They lick me, then run off
To see what they've missed.
And now as I watch them
The thought comes to me,
That theirs is the spirit
That Christmas should be.
Should children and puppies
Yet show us the way,
That should come with this day?
Could they bring the message
That's written above,
And tell us that, most of all
Christmas is love.
Christmas is a time to be merry. There were two trustworthy elves (Maddabling and
DELiciousDesignz
) who co-ordinated the
DUST
Team Secret Santa craft swap this year. Maddabling sent goodies to Petaliferous and tamaradesigns sent goodies to Maddabling. It is always SO EXCITING to receive your craft swap parcel, but even more so when you don't know who is sending it !
The Secret Santa goodies Maddabling received from Tamara at tamaradesigns
The Secret Santa goodies Maddabling sent to Bri of Petaliferous
A dear friend of mine, the lovely Cyndy of
Cyndy Kitt Productions
doesn't send the traditional Christmas Card. This year she made a gorgeous mini poetry book and sent it in an envelope made from recycled pages from Frankie Magazine. Isn't this just the sweetest ? I will certainly treasure this tiny book for many many years to come.
Finally dear readers, before I go, I want to share this lovely treasury that made front page of ETSY today. It was a wonderful early Christmas Present for me and featured many wonderful Australian ETSY sellers.
I wish each and every one of you a joyous festive season, peace and love. Spare a thought for those who are less fortunate than yourself and remember that Christmas is not always a happy time for those around us. Perhaps you could practice a random act of kindness to a stranger in the true festive spirit. Oh and don't forget to leave milk and cookies out for Santa and his reindeer. Merry Christmas xo