Maddabling was also very lucky to have an ETSY treasury featured on ETSY's front page - it featured lots of talented folk, was entitled Festive Fawn and included many Australian Artists !
This week I am happy to indulge you in a little bit of whimsy on a fantastical visual journey with a fabulous Australian ETSY Artist and brand new DUST team member; meet
Jaz
from
Art by Jaz
!
I stumbled upon these gorgeous prints and paintings, while trawling through Etsy one evening. They are beautifully drawn, feminine and completely colourful ! Here are a few of my faves (by the way I had a lot of trouble narrowing this down). I must mention that due to my wonderful husband being a supporter of handmade and local talent, the original Cat and Mouse painting (shown below) is coming to live with us.... he purchased it for me for Christmas :D I am so pleased to be the owner of a piece of original Art by Jaz.
Jaz, you can be assured that Cat and Mouse is coming to a home where she will be loved and treasured.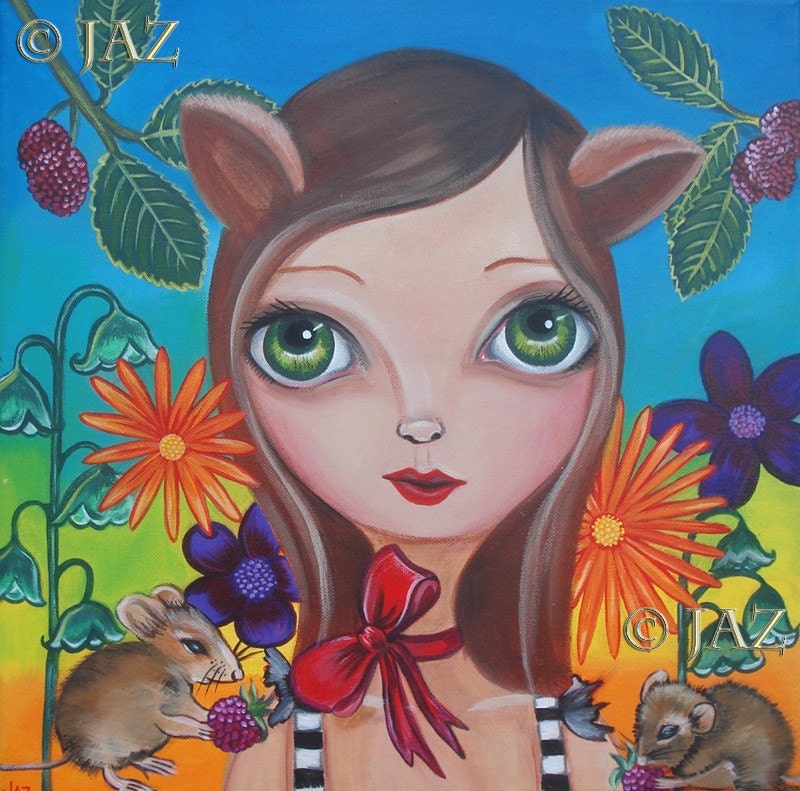 Cat and Mouse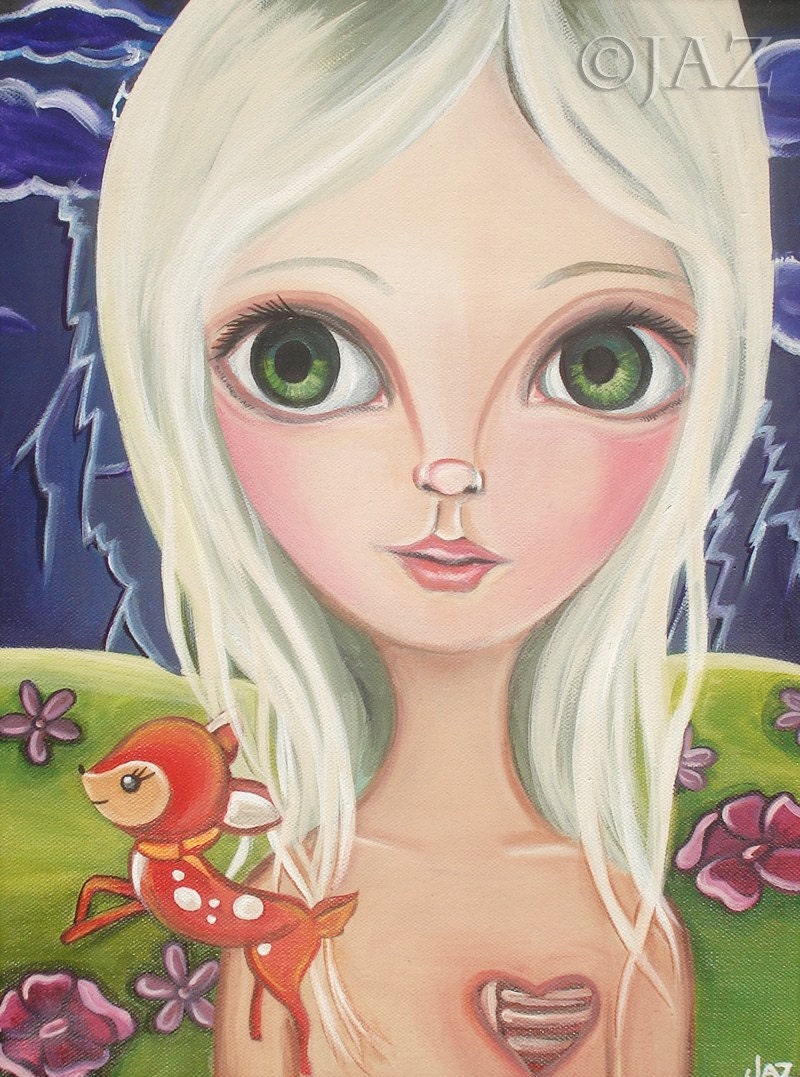 Oh Deer There is a Storm Coming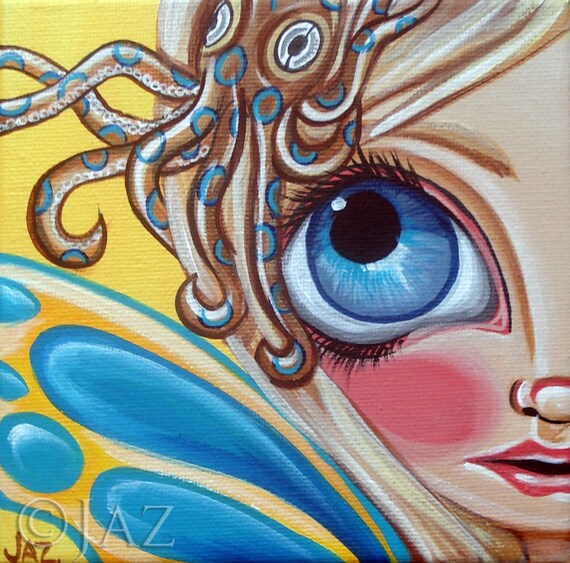 Blue Ringed Octopus Fairy
 Dear readers, I invite you now to take some time out of your hectic day and to indulge in a whimsical visual journey ruffling through the virtual archives of Art by Jaz.
Drink Me

Art by Jaz Archives
I'm Jaz Higgins. I'm a full time artist, working from my home studio in Brisbane, Australia. I live with my husband, our beautiful 3 year old daughter and our little black and white cat.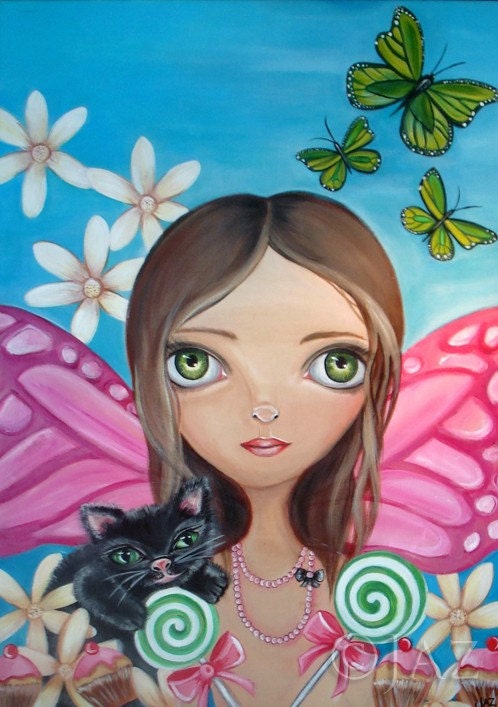 Xenia Fairy
Ever since I was a little girl I've loved creating things. I've always been happy with a colouring book and a good set of felt pens! One of my first memories of my love of colour was visiting a family friend who was a cake decorator and looking at all the brightly coloured pigments that she used to make icing flowers with. There were rows and rows of them and I was absolutely mesmerized !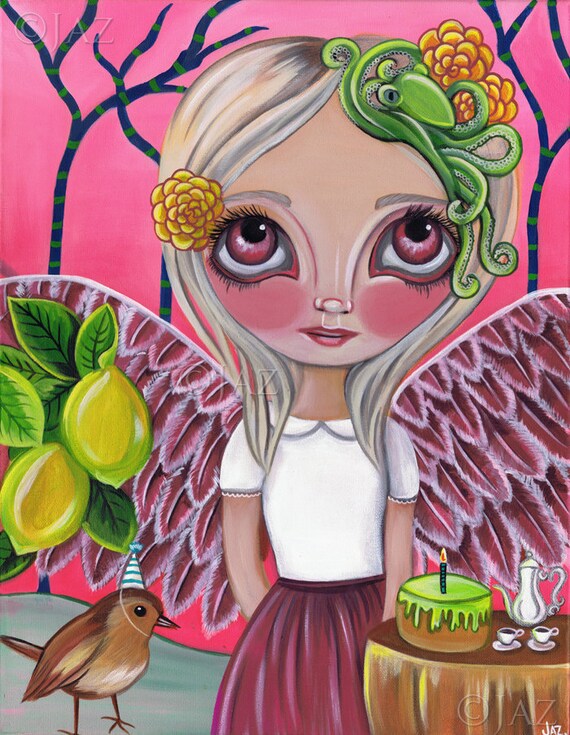 Birdy has a Birthday
I have studied commerce and marketing at uni, and I have worked in retail management, but I realised about 5 years ago that I wanted to work on my art full time. I feel very lucky to be in the position now to do that. It's not always easy being your own boss, and being responsible for paying the bills from your own artwork - but it's worth it.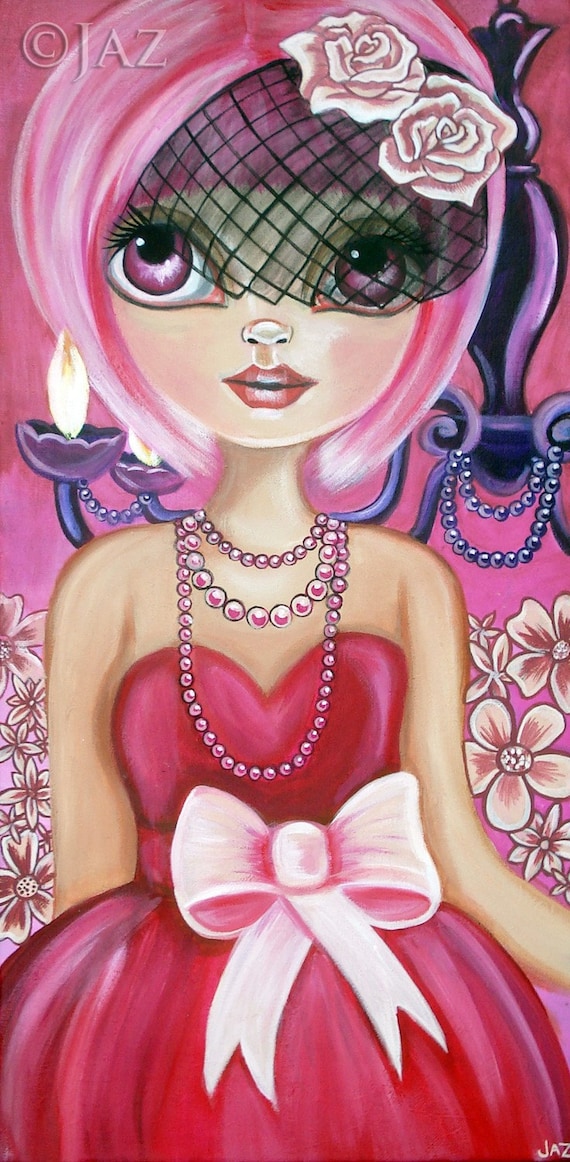 Pretty in Pink
I'm specifically drawn to painting girls, my paintings often feature mermaids, fairies for this reason. I'm inspired by anything whimsical, kitschy, feminine, pretty and fun. I love flowers, fantasy, oceanic creatures, animals, nature, fashion, children's storybooks, vintage emphemera, wandering through art galleries, reading art blogs - I'm inspired by countless things!

Alice Meets the Caterpillar
I mostly paint on canvas with acrylic paints. I find I'm too impatient when it comes to waiting for oil paint to dry, and I find acrylics less messy to clean up than oils! :)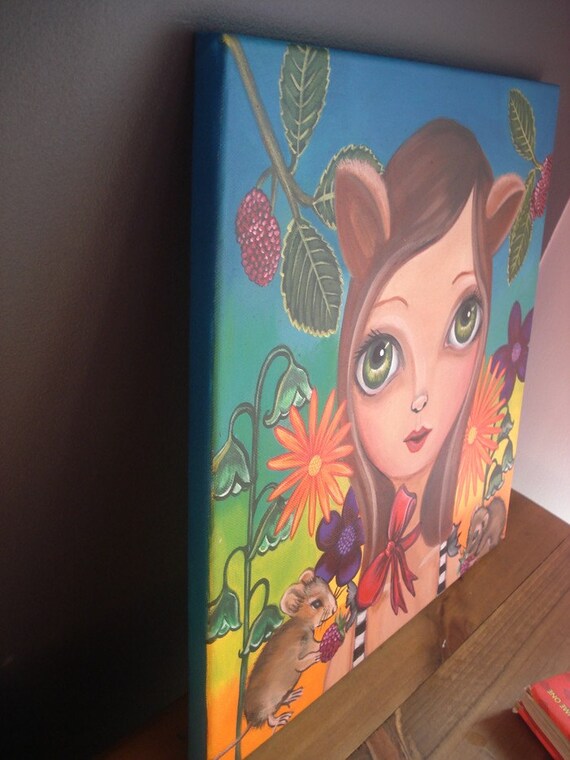 Cat and Mouse
Some of my favourite paintings I've done so far are: "Naughty Cal", "A Jellyfish Friend" and "Alice Meets the Caterpillar".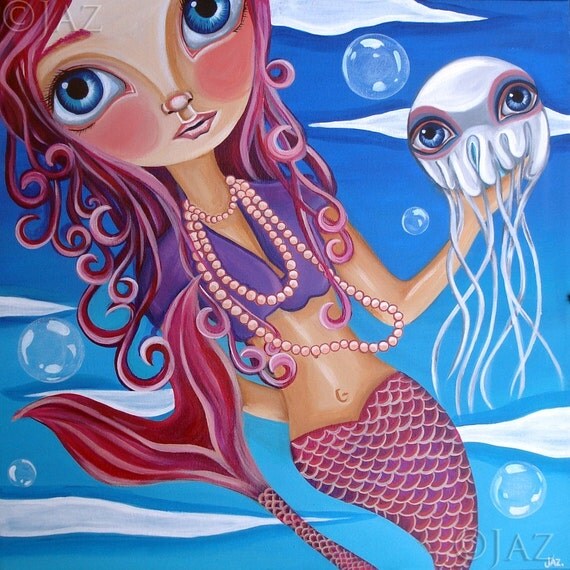 A Jellyfish Friend
While I have sold my artwork online for a while now, I was excited to start getting my artwork in to some 'brick and mortar' stores this year, starting with "Cultiver" in Ipswich, QLD, with more to come in the next few months. I'd also like to start doing some more art shows, expos and markets. I'm looking forward to creating lots of new paintings in 2012 - so keep an eye out! :)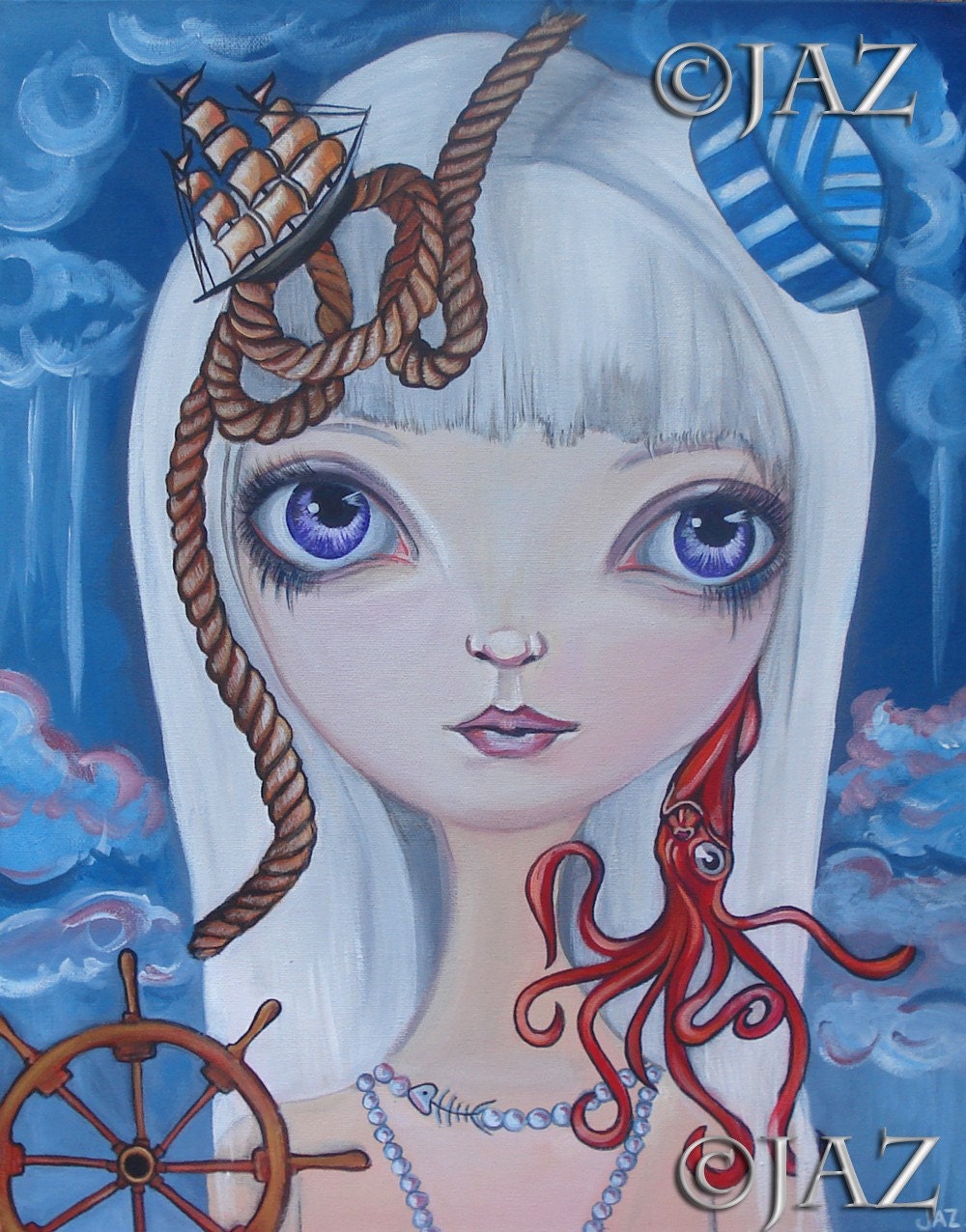 Naughty Cal
Lovely readers you can explore and learn more about
Art by Jaz
or do a little shopping here :
Art by Jaz
Website
:
http://www.artbyjaz.com/
Art by Jaz on
Facebook
:
http://www.facebook.com/ArtByJaz
Art by Jaz
Blog
:
http://artbyjaz.blogspot.com/
Art by Jaz on
Twitter
:
http://www.twitter.com/ArtByJaz
Art by Jaz on
Etsy
:
http://www.etsy.com/shop/artbyjaz