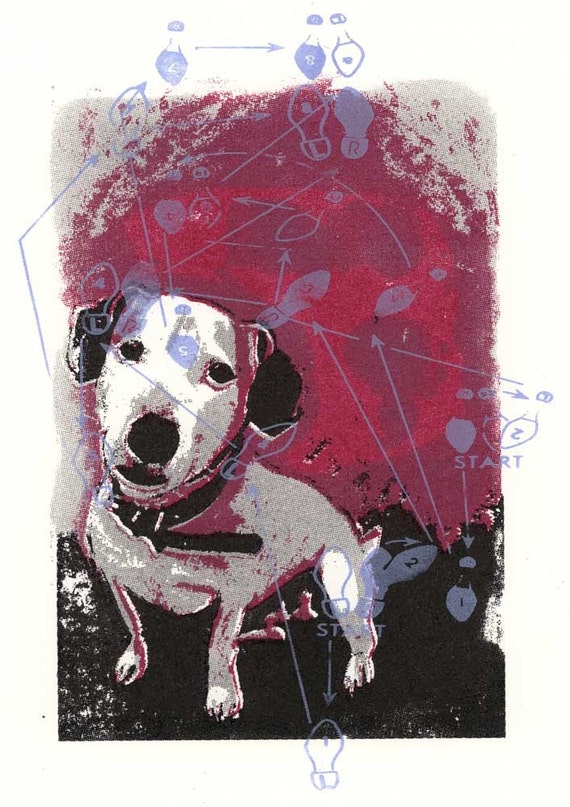 Supper Time, Gocco (screen) print

Hello lovely Maddabling Readers - I hope this blogpost finds you happy on this fine Friday. What are your plans for the weekend ? I am going to try my hand at making bath bombs - wish me luck !
This week I want to introduce a very creative soul - meet Jan from The Artling. I first "met" Jan through the DUST Team on ETSY as part of a Christmas in July promotion and promptly fell in love with her creations. Especially the gorgeous Art Reproductions of her original works, so much so that I purchased the trilogy of prints below. The original works were all mixed media (acrylic & ink) and vintage book page collage on canvas. The Original Waiting for Someone Special also had some hand stitching in it. Aren't they just gorgeous prints ?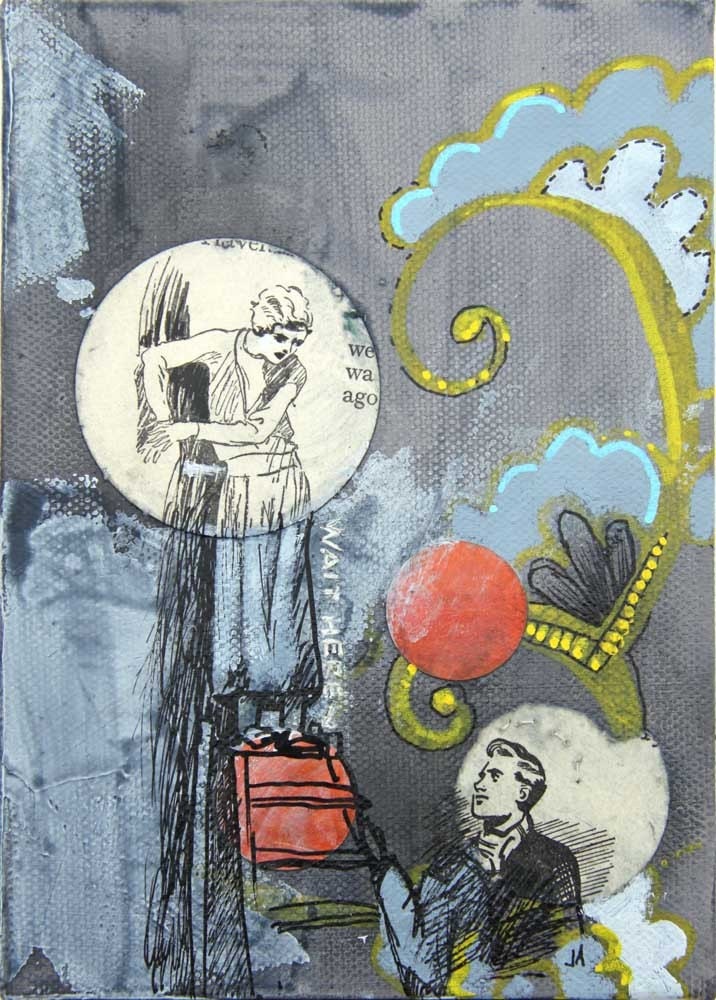 Waiting for someone special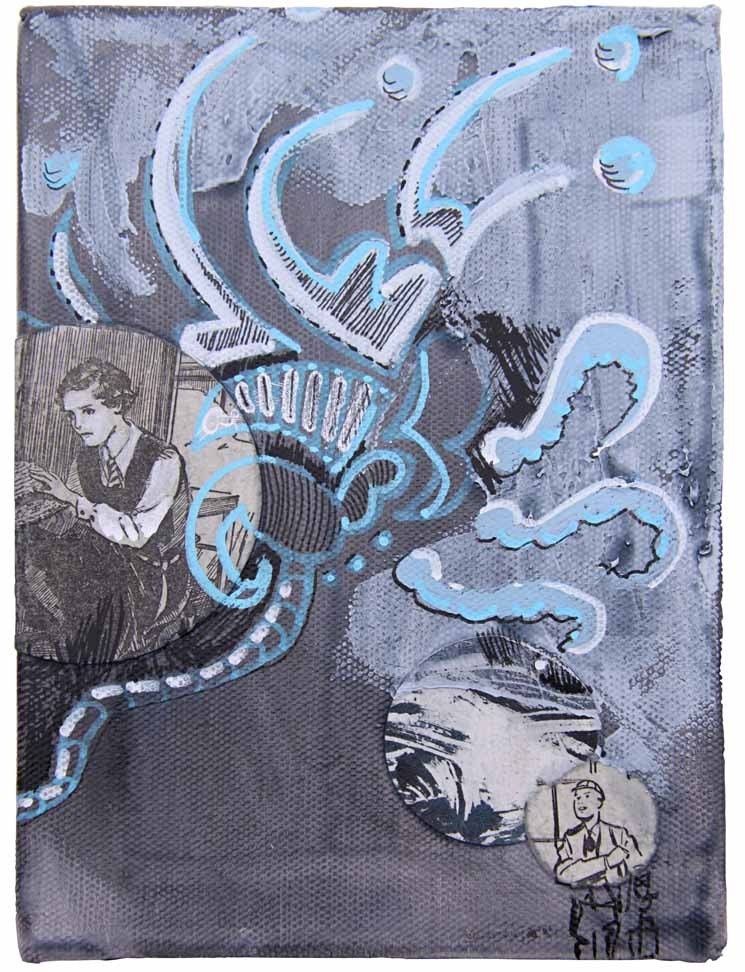 Waiting for someone special (blue)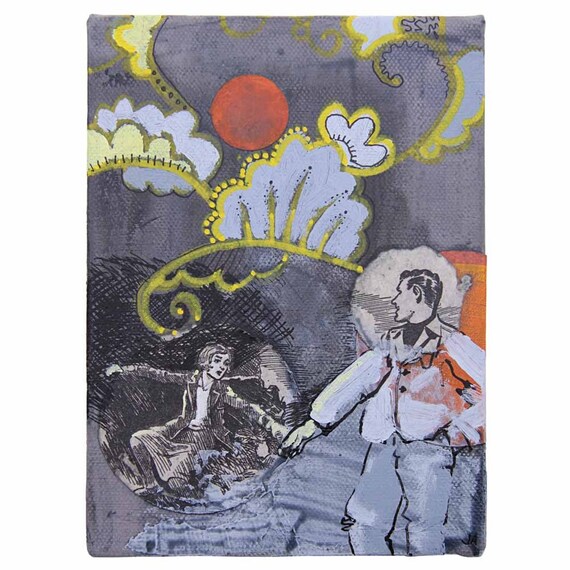 Wish you were here
Jan has embarked on a new and inspiring Artistic Journey and I am thrilled to be able to share this with you !
Dear readers, I invite you read all about it in The Artling Archives. Once you get to the end of this article, there are some links that you may well be interested in, including one to The Artling Website/Blog. There is a special offer at Jan's blog - if you subscribe to her blog you
get a
free e-book
'The Artling's Sketching Success Manual'. So make a cuppa, kick back for a while and peruse the archive ...... oh and have a fabulous weekend too xo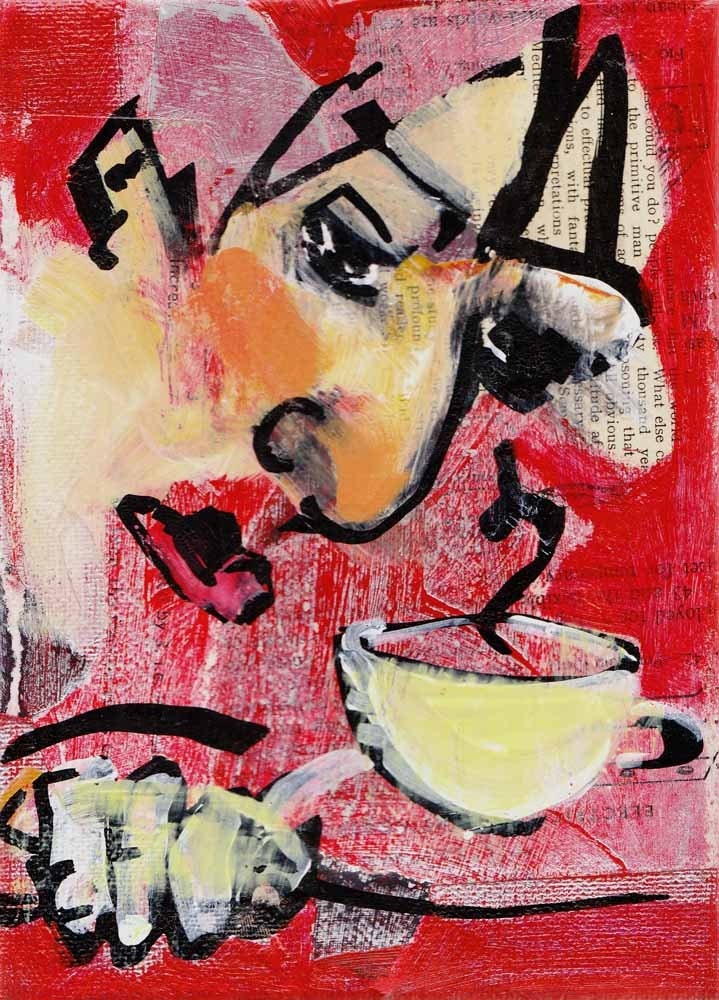 Influence, Mixed media and collage on canvas

How and When did your handmade/artistic journey begin ?

It seems I began creating as a very young child. I have my mother to thank for allowing me to make 'a mess' and for keeping me well stocked with all kinds of art and craft supplies. I am particularly grateful as I don't come from a creative family (well, not a traditional type of one anyway). The only time I remember seeing frustration on her face was every time I asked for another roll of sticky tape - which was quite often!
Sketchbook page, ink and watercolour
What inspires you ?

That house I started creating in as a child had been painted very strange colours by the previous owners. Long before the advent of the 'feature wall' I lived with emerald green, sari pink, steel grey, mauve, mustard and purple. We had Persian rugs on the floor that my Mum bought from a door-to-door salesman and a red couch with matching gold chairs. It was an eclectic accident! My inspiration hasn't moved far from that really. I love the domestic, the everyday. I love colour and pattern. I also seem to love the black line in my work, which I put down to my childhood obsession with colouring in books, illustrations and comics.
Plans, Mixed media (acrylic, pencil, charcoal) and
vintage book page collage on paper
What mediums do you work with - do you have a favourite ?

I have been a collector of skills over my life and as a consequence I draw, paint, sculpt, sew, make paper, books, installations and prints. I have tried glass, ceramics, photography, jewellery making and textile dyeing. If I saw something that I didn't know how to make I would either take a course or teach myself. I love to know how to do everything!

Sketchbook page, ink and watercolour
I do have a few favourites - painting and drawing of course, and recently I've taken up hand quilting. I love to sew at night while watching a DVD with my husband. I think it is the repetitive action and the colours and patterns in the fabrics that gets me. I love it. I am currently almost finished a queen size quilt (in a Dresden Plate patchwork pattern for those that are interested) that is 100% hand stitched. I taught myself this skill too so it's by no means perfect, but I have loved making it.
Who is The Artling ?
Well, I am the person behind The Artling website. The Artling is my new project and I am really pleased with it so far. It came about as a self motivation tool really. For a long time now I have felt 'called', if you like, to create figurative narrative paintings but have put it off 'until I'm good enough'. (Figurative narrative painting is really just a fancy name for paintings of people that tell some kind of story, no matter how small.) I came to realise I would be putting it off forever with that criteria in mind and so The Artling was born.

The blog will have my sketches of people and discuss figurative sketching. It also has interviews with artists who sketch people or do figurative works. This was a great idea as it really does motivate me. For some reason I am afraid of doing this work. The Artling is my way of pushing the fear aside, or at least being compelled to do it anyway.

The Artling will also grow and have resource pages. There will be even more information on sketching and there will also be a resource page for artist bloggers and website owners. I also have plans for an innovative 'featured artist gallery' but it is too soon to say more as yet. And there will be a gallery section of my art too. It's slowly coming together.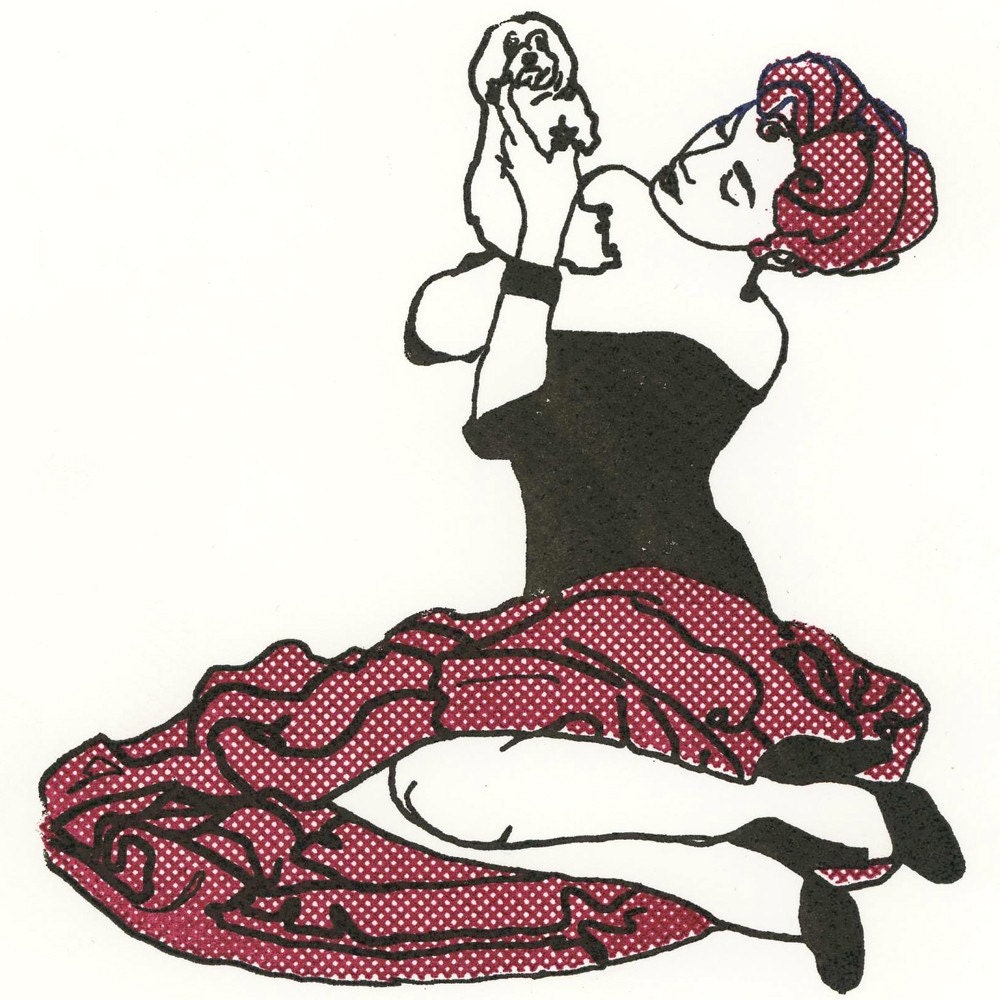 Glamour Girl, Gocco (screen) print
Why 'The Artling'? I think the name has lots of connotations. The fledgling artists, the followers, the artist through and through, I think we all feel like one of these or all of them at some time. Over time I hope to address all those feelings in the blog.
Sketchbook page, ink and watercolour
What are your future plans/dreams/aspirations ?

I plan to develop online courses and ebooks for The Artling in the future and have extensive and useful resource areas on the site. In the near future I have a very exciting interview coming up with my own personal art hero! (So exciting!) And for my painting - I plan/dream/aspire to do that figurative painting!
Before we finish, can I just thank you Samara! Thank you for taking the time to put this interview together of course, but also thank you on a personal level! Until you curated all my works together here I didn't realise I've been doing figurative narrative painting for years! (How did I miss that!?) I now feel like my journey is not so much beginning, as simply continuing on! Thank you. And good luck with those bath bombs!
Dear Readers are you keen to see more ? You can connect with the Artling here :
Website/Blog :
http://the-artling.com/
Facebook :
http://www.facebook.com/the.artling