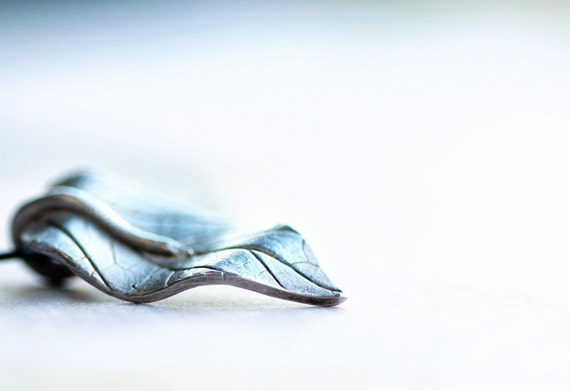 Happy Friday lovely readers, hoping everyone is happy and well, and that you have lots of exciting weekend adventures ahead of you.
Maddabling is heading to"Pop-Up Phone Box Gallery - Guerilla" in the old red phone box on the corner of York Street and Stirling Terrace, Albany on the 19th January.
"Artists Eve Young, Meleah Farrell, David Edgar, Leanne Fry, Janelle Peterson, Kate Houderrani, Jillian Green, Katie Ambrose and Serena McLauchlan will present different takes on the change in communication styles from old school to new tech. Offered will be contemporary small works - drawings, photographs, prints, paintings, frottage and small things that will be the price of a coffee or less"
It is so nice to see something different and innovative from local artists, don't you think?
I digress, back to this weeks featured artist. Today it is my great pleasure to introduce to you a DUSTy Diva and Friday Friend, the gorgeous Vickie of jewelflyt.

Vickie makes beautiful jewellery and specialises in unique handmade creations using fine silver, glass and semi precious stones. I confess, I am a long term fan of jewelflyt and want to share some favourites with you now.
Cloudy Skies, a fine silver pendant is a favourite piece in my jewellery collection, "square in shape, the surface has been textured using a handmade stamp. Raised curls of cloud decorate the surface and the pendant is set with 6x4mm pear shaped spinel sapphire (lab created), which is a deep, rich blue."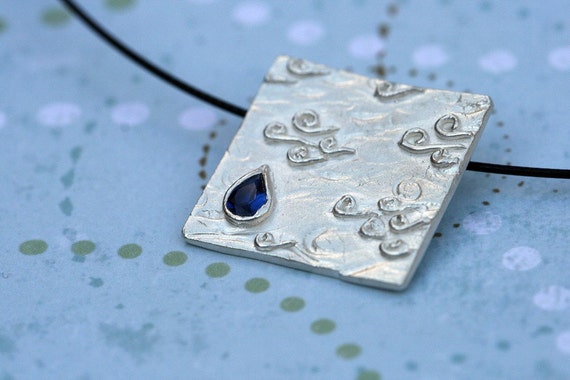 I also adore these unique fine silver earrings - "the slender triangles have been handcrafted from precious metal clay and feature raised, curving lines. They have been given a dark patina and the raised lines, along with the edges, have been rubbed back and burnished to shine and provide contrast.The faceted, 4mm trillion and triangular stones are lab created cubic zirconia. Above the triangles, pale, faceted carnelian disks (10mm) are strung on sterling silver wire between faceted topaz glass beads. Leaf shaped sterling silver ear wires (hand made) complete the earrings"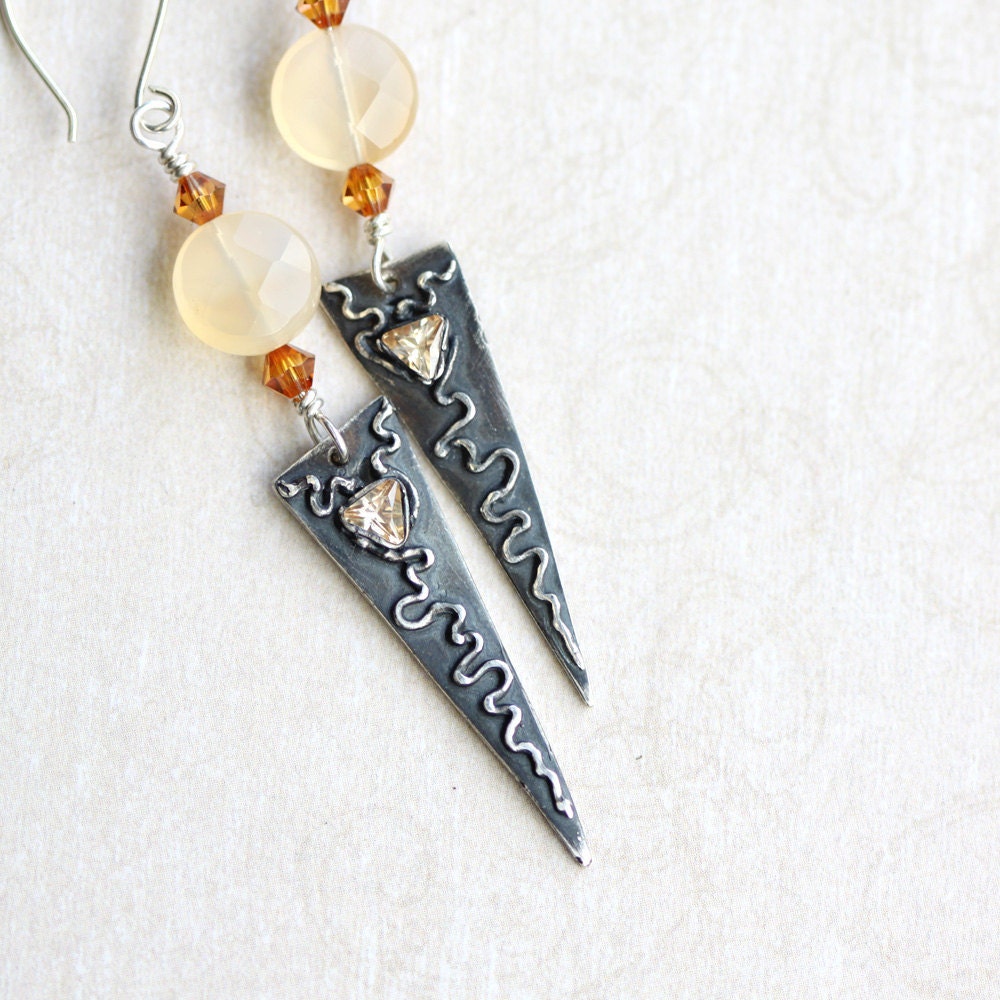 and the shapes and textures in this fine silver necklace "silver dawn" are equally beautiful. "Drops of silver dew gather in the fold of the leaf textured pendant, along with a sparkly 3mm clear cubic zirconia (lab created). The necklace is strung with a myriad of dawn colours - soft blues, greys, greens. The beads are a combination of amazonite, banded agate, tourmalinated quartz, pearl. czech glass and sterling silver."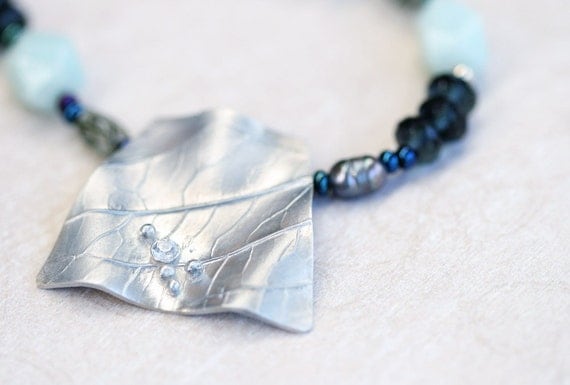 Dear readers, I invite you now to take some time out, to indulge yourselves in the enchanting tale of jewelflyt. Have a fantastic weekend xo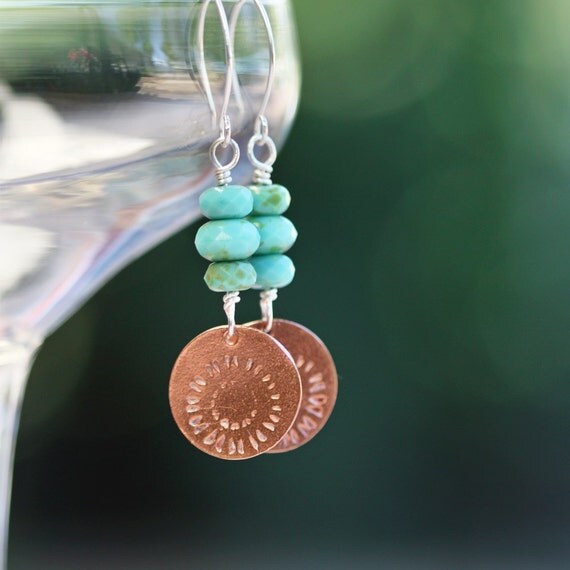 the enchanting tale of jewelflyt
Hi, I'm Vickie and jewelflyt is my jewellery business.
I've always loved making pretty things and started making beaded jewellery many years ago. Then about six years ago, I tried PMC for the first time and fell in love. PMC (precious metal clay) is microscopic silver particles in an organic binder, which can be rolled, shaped + textured like clay.
After firing (where the binder burns off and the metal sinters) what remains is fine silver. I still love working with beads (the colours!) and I love learning new skills and techniques, but PMC is probably my favourite.
I'm inspired by nature, colour, pattern, nice light and daydreams. With my silver jewellery I love to make simple, but detailed pieces.....and I love adding texture and pattern to the surface.
My beaded jewellery is usually designed around colour – I start with a pendant or bead and build a colour palette from there.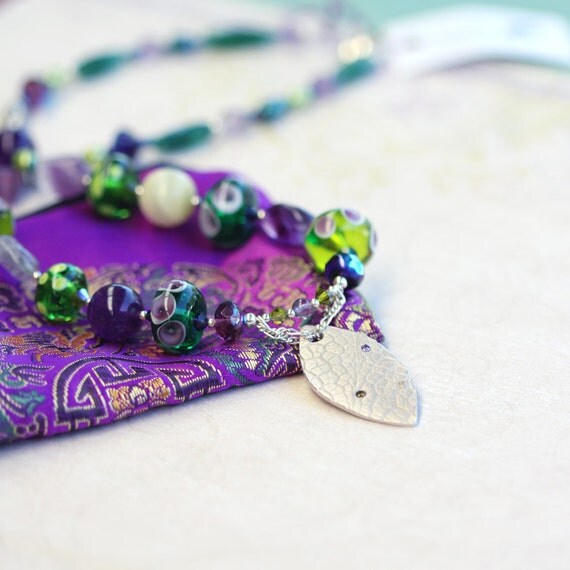 My aim is to keep making jewellery and to grow my business – which means working on my etsy store and marketing and finances...as well as creating, of course. I don't think I'll ever stop creating – even if I'm not making jewellery, I'll be drawing, or taking photos, or baking, or something.
Dear readers, here are some links for you to explore, I am sure that you would love to see more of Vickies' gorgeous work.

Check out the jewelflyt Blog: unusualmagic.blogspot.com.au/