Why hello there! Is it Friday again already lovely Maddabling readers? I want you all to meet a new Friday Friend and Australian Maker, introducing the very sweet Erika of Vintacci.

The Vintacci mission statement is to upcycle, recycle, embellish and create new items from recycled and new fabrics.
There are so many gorgeous creations to choose from, take these for example.
Firstly
a
Cream Wool knit Skirt with Hand Crochet Flowers, Leaves and Shapes; it is a fine example of upcycling. This skirt is soft, feminine and comfortable. Featuring l
ovely earthy brown and cream tones. This piece was created from a vintage cardigan by an Australian designer.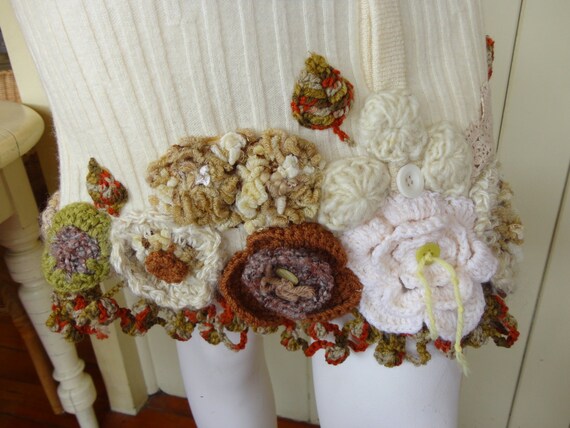 Next, I choose to share this darling Cream Floral Bohemian Tapestry Bag. This is a medium sized bag, embellished with hand stitching, lace and a sparkly brooch. It's fully lined and a surefire conversation starter :)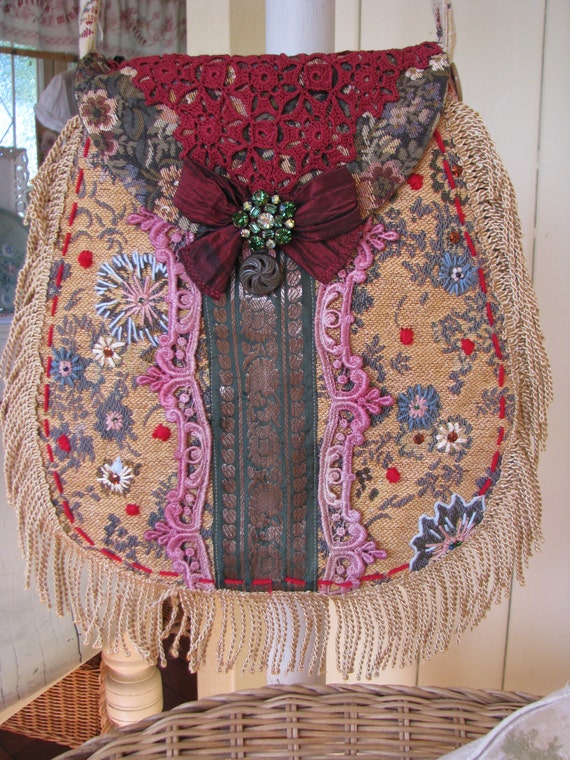 Lastly, perfect for summer is this Green Polka Dot Sundress.
This Altered couture sundress has an elastic waist and a decorated cream velvet belt. Velvet ribbon has been used for the straps and the hemline is finished off with lots of lace
.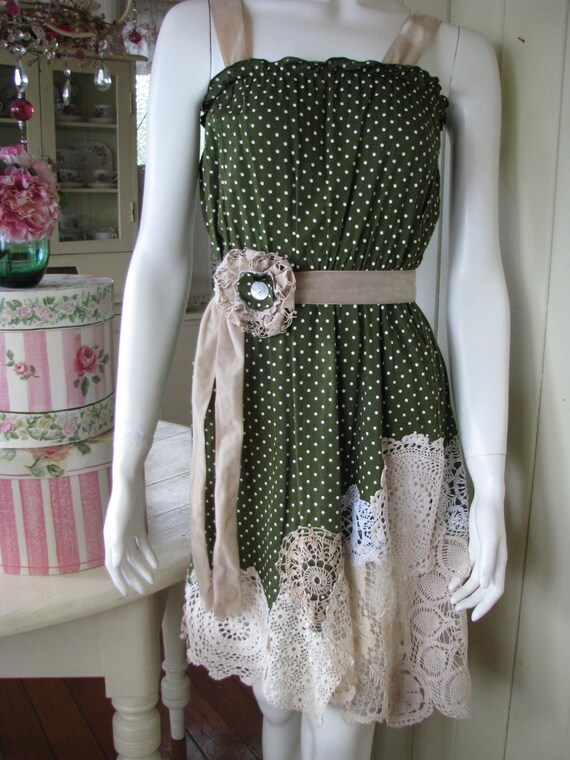 Ok readers, time to settle in for some you time, make a soothing cup of tea and read The Vintacci Zine. I hope you love this story as much as I do. Have a wonderful weekend everyone xo♥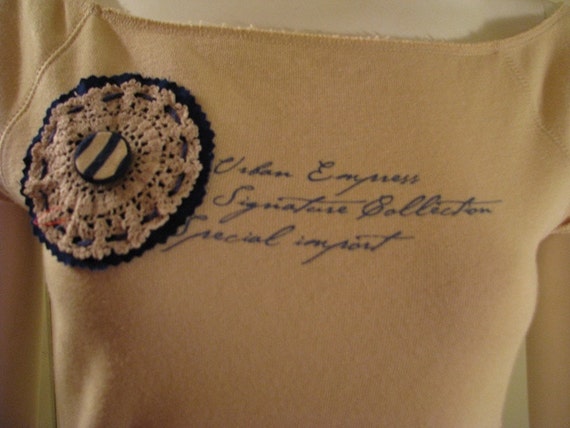 The Vintacci Zine
Who is 'Vintacci'? Vintacci is me, Erika Schacht. I am sitting in my little corner of this world where I upcycle, recycle, embellish and create sustainable ecofriendly items from recycled fabrics.
How and when did your artistic journey begin?
As far back as I can remember I have always been interested in
painting and creating something. As a little girl growing up in
Germany I admired my grandmother's richly embroidered table cloths.
She designed and drew her own patterns before embroidering them. She
had a great talent. Even today I can still smell the freshly starched
and ironed linen in her house, but sadly she passed away when I was
only 10 years old. Since then I had a great interest in collecting
beautiful antique and vintage linen, fabrics and china. As my
collection grew I slowly ran out of space to store it all and it was
then that I started to use some of my collected 'stash' to create
wearable art and other art pieces.
What inspires you?
Beautiful linen and fabrics, paintings, nature's colours, flowers,
incredibly talented people and my customers.
What kind of things do you make?
As a passionate Op-shopper and Recycler I found a way of combining
the two to create fashion items like clothing, bags, belts and
anything that comes to mind. My other passion is painting and
upcycling furniture into 'shabby chic' items. It is so rewarding to
give castaways a new life for it to be enjoyed again.
What mediums do you work with?
Do you have a favourite?
Whenever I can I use ecofriendly materials like cotton, silk and
linen. At the moment I use a lot of hand crochet doilies, antique and
vintage table cloths, napkins and curtains. For winter design I
repurpose woollen jumpers and blankets.
Do have a favourite piece that you have created?
I get quite attached to the pieces I create and I find it hard to let
go of them. My favourite piece was a bustier which I pieced together f
rom lots of men's shirt collars.
What are your future plans, dreams, inspiration? I just moved from the subtropical heat of Queensland to the more moderate climate of Tasmania surrounded by beautiful gardens, an orchid, lots of wildlife and close to the beach. All this gives me a lot of inspiration and drive to take up painting again as well - my
painting has been somewhat on the backburner for the last couple of years. Further down the track I would like to teach upcycling and wearable art. But for now would like to connect with some likeminded people in Tassie to establish new friendships.
Do you have any Exhibitions or markets coming up? On invitation I have just submitted some pieces of wearable art to a magazine in the U.S.A. After Christmas I would like to sell at some markets here in Hobart - as I enjoy contact with people.
I wish everybody a Merry Christmas and best wishes for the New Year. Cheers, Erika
A special note dear readers! You can see many more wonderful creations and shop to your hearts content in the Vintacci Etsy shop here:
https://www.etsy.com/au/shop/vintacci